Glenn Gould, piano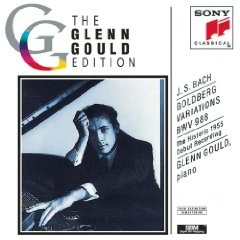 Bach: Goldberg Variations for keyboard, BWV 988: Aria
From Bach: Goldberg Variations, BWV 988 (1992)

Released by Sony Classical



Legend has it that Bach composed the Goldberg Variations at the request of the Russian Ambassador, Count Kaiserling, who was suffering from insomnia and asked for a lively yet soothing piece of music to be played by his live-in companion Goldberg, in order to ward off his sleepless nights.
The aria in itself is a masterpiece, and one wonders what can follow such a splendid opening. But indeed, the 30 variations are each breathtaking in their own way.
Glenn Gould made two recordings of the Variations: the first in 1955, at the age of 22, and the second one in 1981, one year before his death. It is most interesting to listen to both versions and discern the differences.
The 1982 version of aria has a completely different tempo, as Gould wanted to take the time to share his life in this short piece, and after the 30 variations, the return of the aria is thus described by the musicologist Peter Williams: "Elusive beauty … is reinforced by this return to the aria…. No such return can have a neutral Affekt. Its melody is made to stand out by what has gone on in the last five variations, and it is likely to appear wistful or nostalgic or subdued or resigned or sad, heard on its repeat as something coming to an end, the same notes but now final."