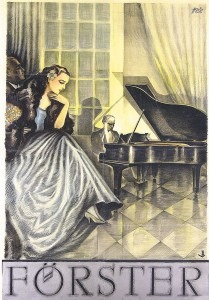 Quietly tucked away in a secluded corner of eastern Saxony sits the town of Löbau. Small in size—currently counting less than 15,000 inhabitants—this settlement was first mentioned in 1221. But what really put Löbau on the international radar was the cabinetmaker Friedrich August Förster. He had been repairing musical instruments in his spare time, but on 1 April 1859—no joke—he set up a small workshop and started to produce his own pianos. From the very beginning, Förster was particularly concerned with the sounding qualities of his instruments. He lavished special attention on the design and shape of the soundboard, and patented his results in 1866. Using a heavy-duty cast iron frame and specifically constructed and added back posts, the instruments also featured improved tuning stability and reliability so attractive to professionals and amateurs alike. But you don't have to take my word for it, just have a look at what Sergei Prokofieff had to say in 1937: "I must say that I am pleased as ever playing your – August Förster – grand piano. It is in points of euphony [melody] truly superior in both bass and descant. Its mechanism allows me to reach all dynamic layers of sound with ease. Also, its tuning keeps very well. I openly congratulate you, Mr. Förster, and would like to tell you that you have my highest respect."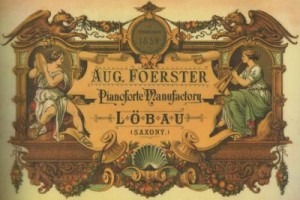 Prokofiev was not the first pianist of note to lavish high praise on Förster instruments. Richard Strauss supposedly took a Förster grand on the road in 1864. Dutifully, he reported "The August Förster grand piano used during my last concert tour was a loyal companion to me. It is rich and melodic throughout the whole spectrum of sound and comfortable to play." Since Richard Strauss was actually born in 1864 either the date of the letter is incorrect, or we are talking about an entirely different Strauss. We do know with certainty, however, that Giacomo Puccini personally went shopping and bought himself a Förster! I suppose, the secret to the incredibly warm, mellow and seductive sound of the Förster instruments is not just found in its unique soundboard. Rather, it takes a number of months to handcraft every single piano. Almost like an exquisite work of art, 12,000 individual parts—in honored traditions of craftsmanship passed down through the generations—are combined into individual masterpieces of precision. Currently, a dedicated group of 40 artisans and highly skilled professionals produce roughly 110 grand, and 150 upright pianos annually.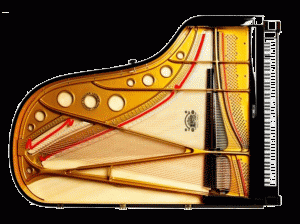 By 1862, Förster's small workshop had expanded into a factory building that is still in use today. The reputation of Förster instruments continued to grow, but high import duties imposed by the Austro-Hungarian Empire prevented access to this important market. As such, Caesar Förster, who had succeeded his father as head of the company, founded a branch factory in Georgswalde, located just a few kilometers east of Löbau in Bohemia. Caesar Förster was awarded an imperial and royal warrant of appointment to the court of Austria-Hungary, but the ravages of two world wars left its mark on the company. The Czech Republic nationalized the factory in Georgswalde in 1945, and they continued to produce instruments under the name of "August Förster," with no actual connection to the real article, under the "Petroff " label.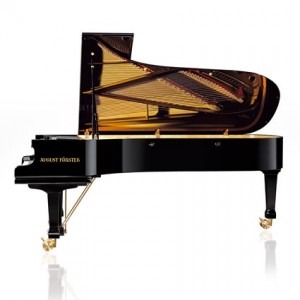 The Löbau factory, in turn, fell under the socialist control of the German Democratic Republic, but has since risen from the ashes to produce one of the world's finest instruments. Under the guidance of fifth-generation Annekatrin Förster, the company currently offers grand pianos in four sizes and various finishes, and two upright models, available in contemporary, elegant, classical elegant and Chippendale and Concert styles. The modern Förster is once again receiving international awards and commendations, and will undoubtedly continue to seduce listeners and performers with its unique and mellow sound.

August Förster Model 190