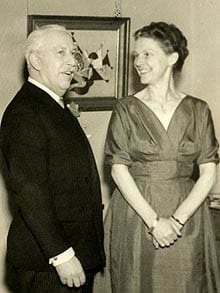 Although he was born in a suburb of London, Sir Arthur Bliss was half American. His father Francis Edward Bliss, a successful businessman from Massachusetts, had settled in England after marrying his second wife Agnes Kennard Davis. When Agnes died, Francis Bliss eventually remarried and decided to retire in California. So he packed up his belongings in 1923, including his son Arthur, and established his household in Santa Barbara, California. Arthur had been severely traumatized by his active duty in World War I—he lost his brother Kennard, was twice severely wounded and survived a gas attack—and was now making a living as a conductor, lecturer, pianist and occasional critic. He also became a celebrated local amateur actor! And while he was acting in an amateur production of The Beggar on Horseback in Santa Barbara in the summer of 1924, he fell head over heels in love with Gertrude Hoffmann. Merely a couple months later he writes to his friend Ulric Nisbet on 21 October 1924, "Now for a bombshell! Take cover! When you next see me I shall be the complete married man."

"Trudy" Hoffmann originally hailed from Massachusetts, but had moved to Santa Barbara in 1919 where her father, a distinguished naturalist, founded the Natural History Museum. From 1922 to 1924 she studied at the exclusive Radcliffe College in New England, but spent her summer holidays in California. By all accounts, she exhibited "a high-minded ethos, an inquiring mind, determination and practicality." She eventually published a wartime book of recipes for children, and became an authority on Jane Welsh Carlyle, the wife of Thomas Carlyle. Later in life Trudy became a well-respected broadcaster, author of a radio play and the custodian of the "Bliss Charitable Trust." But first, she married the 33- year old Arthur Bliss in June 1925, and the happy union produced two daughters. The newlyweds decided to move to England, and settled in London the same year. The Toccata was the first work Bliss completed after his return, and as you might well expect, it is dedicated to his wife.

Arthur Bliss: Toccata
To better understand her husband's musical profession, Trudy Bliss studied music theory at the Royal College of Music, and also took singing lessons. With Trudy's unwavering support, Arthur's career flourished. He received major commissions from American orchestras, and firmly established his position as Elgar's natural successor in England. Yet, politics intervened once again. In June 1939 the Bliss family sailed to the United States for the premiere of his Piano Concerto in New York. After the performance, they stayed in the US for a short holiday, and it was during that time that the Second World War broke out. Arthur managed to secure a teaching position at the University of California, Berkeley, yet he increasingly felt that he should somehow assist in the war effort. Clearly Trudy and her daughters could not return to England, but Arthur had made up his mind. He later said that his wife "remained always wonderfully understanding, never trying to influence me one way or another; she knew with the clearest intuition what was involved and what might be the consequences in future happiness of the final decision." As such, Arthur Bliss returned to England in 1941 and was offered the post of Director of Music at the BBC.

It took almost two years, but the family was finally reunited in November of 1943. And when Bliss was appointed Master of the Queen's Musick in 1953, the couple was sent as cultural and musical ambassadors to Russia only a couple years later. According to one anecdote, Trudy Bliss found herself unexpectedly sitting next to Khrushchev, who was left defenseless by her charm! When Sir Arthur Bliss died in 1975, Trudy devoted her life to the legacy of her husband's music. She produced a catalogue of his complete works, and founded the Bliss Charitable Trust to foster new talent in music. She was also instrumental in helping to set up the Arthur Bliss Society in 2003. Trudy Bliss outlived her husband by 33 years, dying in 2008 at the age of 104.