André Jolivet (1905 – 1974): Second trumpet concerto (1954): Grave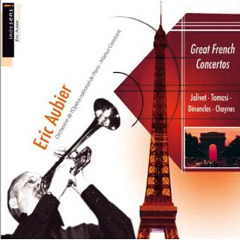 André Jolivet: Second trumpet concerto (Grave)


Having appeared on the most famous stages around the world for the past 20 years, Eric Aubier has risen his trumpet to the rank of ambassador of French music. Yet again with this record, he pursues his will of perpetuating this fertile repertoire, with the 1948-1956 period famous concertos. The atmosphere that reigns in these five masterpieces is full of emotion. the neo-romantic Désenclos, with his range of contrasts mingled with sensuality, Tomasi the impressionist, with his endless pallet of tones-so close to Ravel- and Jolivet, famous for his sound and rhythm creativity, make the album an essential piece of record collection for all French music lovers.