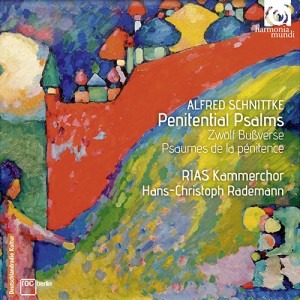 Penitential Psalms
Nr.2. Es nimmt mich die Wüste auf wie die Mutter ihr Kind
From Alfred Schnittke
Penitential Psalms (2016)
Released by Harmonia Mundi
Alfred Schnittke: Penitential Psalms – Nr.2. Es nimmt mich die Wüste auf wie die Mutter ihr Kind

A gift of incredible beauty.
The Penitential Psalms, a key work in the artistic itinerary of Alfred Schnittke, was premiered in Moscow in 1988. This masterpiece of exceptional density and rigour, at once contemporary and timeless, is performed here from the composer's autograph manuscript, which includes significant divergences from the published edition.
The Three Sacred Hymns, which follow the Psalms, are rooted in a musical tradition closer to Russian Romanticism.