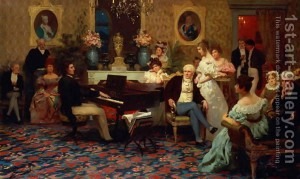 Musicians are constantly on the hunt! We strive for the spark of deep intimacy and shared experiences with our audiences. So how about playing in a truly intimate setting—chamber music as it was intended—in a parlor? Harkening back to the salons of Schubert and Chopin's time, we wonder if we can replicate those stimulating, divine evenings. A home concert is certainly ideal for trying out a new program, exposing ourselves to new audiences and for sharing our love of music, literature or poetry—perhaps with a little imbibing on the side?

The salon gatherings or house concerts originate from the first half of the 17th century in Paris as an alternative to performances given by the aristocracy in castles, opera houses and palaces. Public concerts were relegated to taverns and coffee houses. It was difficult for anyone other than the aristocracy to partake in cultural evenings, especially for women. The intention of Salons was to bring people together for intellectual and social exchanges and to break down social barriers. The home venue became popular not only for inspiring tastes and showcasing the latest leading personalities of the time. It became a place where people could freely meet in equality for conversation. Prominent Salonnières included countesses and duchesses, as well as prominent figures such as Gertrude Stein whose guests included Hemingway, Picasso and Matisse. Salon hostesses Elisabeth Comtesse Greffulhe and Princesse de Polignac commissioned works as well— beautiful songs and chamber music of composers Fauré, Debussy, Ravel and Poulenc, expanding the repertory for us to play today.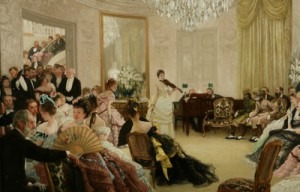 Chopin gave only thirty public performances, preferring the more intimate, informal atmosphere of the salon.

Today house concerts are private events in the homes of music fans, friends, neighbors, acquaintances and aficionados. Believe it or not, there are well over 10,000 performances in home settings each year. Several online networks create tours for artists— the New York City House Concerts, which has quite a large roster of musicians and www.ConcertsinYourHome.com founded by Fran Snyder, who has been featured in The New York Times.

That said there are hazards that one has to be prepared for. I have performed many in-house concerts. Some were inspiring and some infuriating!

The Hot House: I was invited to play in the home of my son's school principal. A rehearsal date is essential to try the piano and check out the space. Much to my disappointment, even though I had specified that my pianist and I needed a baby grand piano or larger, we encountered a beat-up bygone upright in the tiny living room. The day of the program, a Sunday afternoon in July, the temperatures hit well above 90 degrees (33 Celcius.) In we walked dragging the cello, music stand and the music, already soggy in our basic black and high heels. Inside there were so many people seated on the floor (many of them squirmy young children) that we could barely find a path to get to the piano. I had relied on the common sense of the hostess to choose a sensible number of guests considering the small space. Error! With everyone breathing down our necks and no air-conditioning the temperature climbed and climbed and the tuning drooped and drooped! Even my cello fingerboard was gooey. By the end of the program we were feeling faint. We declined to stay for chips and dip.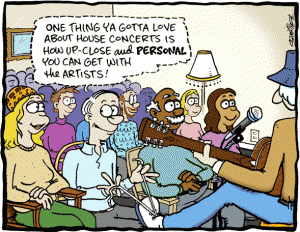 The Farm: A prominent local family invited me to play at their farmhouse to honor the matriarch of the family who was turning ninety years old. I could hardly refuse but I dreaded the scene. I was to play in their barn. Would I hear the animals? Would we sit on hay? When I saw a beautifully renovated log home and a lovely Steinway in the living room I couldn't have been more delighted. We could smell something truly divine from the kitchen. One of the sons, as it turned out, is a chef. We were treated like royalty. Perhaps this is how Chopin felt.

Astor Piazzolla
Le Grand Tango
The Hired Help: I always specify when I perform in someone's home that it is a concert—not background music. Guests are expected to be sitting and listening. On one occasion the hostess welcomed my pianist and I, gesturing toward her impressive modern living room with floor to ceiling windows and a lake view. It seemed like the perfect setting. The woman of the house tended to our every need, discreetly tiptoeing around while we tested the acoustics of the space.

Somehow the memo didn't get to her husband. When we arrived for the event the guests were already seated at the dinner table and it was obvious that they had downed several bottles of wine. Puzzled, I started to set up. The gentleman waved at me to begin. I realized that they would not be taking a break for the music. Across the room I could see the staff serving the main course and the, chewing, chatter and clatter, though discreet, continued while we played. We finished with our big finale—Astor Piazzolla's Le Grand Tango. The quests paused between mouthfuls and smiled awkwardly. The host waved at me to leave. Evidently they were anxious for dessert.

The Black Tie: Another time a couple could not think of a more wonderful way to celebrate their anniversary than to have a home concert. I arrived for the rehearsal and saw a luxuriously furnished but diminutive apartment. I wondered where we would all fit and cautiously maneuvered around countless delicate porcelain objects to a seat by the piano. Twenty guests were invited for a black tie evening. The attendees sat very close, virtually on my lap, with rapt attention. The program met with such enthusiasm that they clamored for several encores. The hosts insisted that we and our husbands join them for the sumptuous dinner following the concert. What an unforgettable celebration for all of us.

Paul Ben-Haim
Three Songs Without Words
Before you decide to perform a home concert it's wise to draw up a short contract that includes your expectations— the length of program, the type of music, the space you need, and remuneration (unless it is a fundraising concert you have agreed to.) Will people drop some money in a hat or will the host pay you a set fee? Address the behavior, number and the ages of the guests. Specify the conditions you require: lighting, adequate space, chairs, a warm up space and whether you are willing to play outside if requested. Determine whether the host will print invitations and a program or if you will introduce the music. Consider a mileage stipend, accommodations and/or travel costs if you have accepted a concert out of town and don't forget to discuss meals. Are you to be invited to hobnob with the guests? In that case, decide whether the dinner or buffet should be before or after the performance. Finally, if you are planning parlor concerts in your own home think carefully about the guest list, for everyone's comfort and security.

I've found that music around a theme works well. One program, Around The World Musically Speaking, included Beethoven's Seven Variations on a Theme from Mozart's Opera The Magic Flute, Gabriel Fauré's Après un Rêve, Suite Populaire Espagnole by Manuel de Falla, Roumanian Folk Dances of Béla Bartók, Paul Ben-Haim Three Songs Without Words and the aforementioned Le Grand Tango which gave a spicy mixture of musical flavors—something for everyone's taste. To make the evening even more intimate, I love to tell some behind-the-scenes stories to elucidate the music. A deeply intimate and enjoyable time is had by all.