I went on my first ECO Music Cruise in 2007, and it was a most memorable experience. Travelling with a respected orchestra and exceptional musicians, enjoying two to three concerts a day over the course of seven days, sometimes even in unprecedented historical venues – it was a frugal adventure that delighted the devoted music lover in me. So returning to the ECO music cruise this fall was something I had been anticipating since the beginning of the year.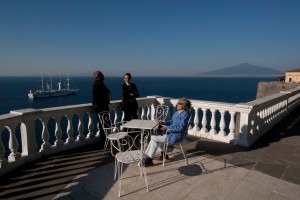 We embarked from Athens on the Wind Spirit. Early on in the voyage, we were told that due to a less-than-optimistic weather forecast, the captain had decided to change the itinerary and keep us for two consecutive days out at sea. This made little difference to us; as long as the musical programme remained unchanged, it didn't matter whether it took place on board or on shore.

The opening concert was a very interesting one. The ECO, together with harpist Claire Jones and flautist William Bennett, delivered a full programme for the harp and flute. I had not the chance to hear the ECO play since 2007, and I must admit that in the three years since, the orchestra has improved immensely in terms of musicality. Leader Stephanie Gonley has matured and gained assurance, and cellist Caroline Dale is just lovely to hear and watch. Claire Jones, aged only 25 and the Official Harpist to HRH the Prince of Wales since 2007, was exquisite in Debussy's Danse Sacrée et Profane as well as Mozart's Concerto for Flute and Harp.

I have a very limited knowledge of the harp. For me, it had merely been part of larger orchestral pieces or hotel lobbies. Following Claire's concert and her interview the next day however, I came to learn a lot more about the instrument and its complexity.

Apart from Claire, there was a line-up of other wonderful artists such as Steven Isserlis, Joshua Bell, Sergej Krylov, Igor Levit, young trumpeter Sergei Nakariakov, tenor Benjamin Hulett, pianist Ana-Maria Vera and so many more – the list just goes on. And with an average of two concerts a day, it would be difficult to list every detail of the wonderful music programme on the cruise. Rather, let me highlight the concerts that I found particularly outstanding.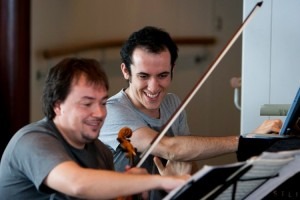 Sergej Krylov, who had been on the cruise in 2007 and whose lyricism and flawless technique remained vivid in my memory, gave what was probably the most impressive concert of the cruise together with Igor Levit. Their Beethoven's violin sonata Kreutzer is by far the best I have ever heard.

The world-renowned violinist Joshua Bell is, to me, the violin's answer to Lang Lang. He possesses masterful technique, superb stage presence, and a much cuter face than Lang Lang. He was impressive in Ravel's Sonata for Violin and Cello with Steven Isserlis – I certainly think his style is more suitable for a modern repertoire than for Baroque music. His rendition of Vivaldi's Four Seasons with the ECO was extremely vigorous, the playing so exuberant that all four seasons sounded like one – a long stormy summer!

To me, the beautiful pianist Ana-Maria Vera is une vraie petite perle. Her music was like her personality – soft, sweet, delicate, subtle and classy. She played wonderfully with William Bennett in Melanie Bonis' Sonata for Flute and Piano, a charming piece by a little-known French composer. Faure's Elegie, which she played with cellist Caroline Dale, was just splendid. Both ladies played with wonderful intensity.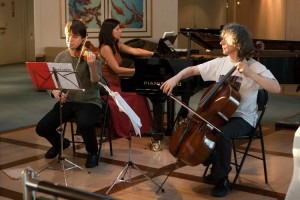 Cellist Steven Isserlis wrote a few fairy tales to music composed by Anne Dudley. One of these, the Little Red Violin, is a charming story full of wit and humour. He performed it with Joshua Bell and Ana-Maria Vera, with musicologist Stephen Johnson as narrator. It is unfortunate that there's no recording available, because the piece would have made a great introduction to classical music for youngsters.

Another highlight was probably the interviews and lectures conducted by Stephen Johnson, who is an extremely knowledgeable musicologist with a great sense of humour. I enjoyed his lecture about Schumann immensely, and regret that there wasn't more from him during the course of the cruise.

The only downside to the voyage was probably the ship itself, the Wind Spirit. She is now three years older than she was in 2007, as am I. As a motor sail yacht with a 148-passenger capacity, she is ideal in terms of privacy, intimacy and closeness, but her small size also means that the rooms are pretty close to the engines. My nights were short thanks to the noise of the propellers, and even shorter when I decided to use earplugs! The dilemma became choosing between the noise and the rubber invaders in my ears.

The two consecutive days at sea under turbulent conditions caused many people – including the musicians – to become sick. Luckily, the situation improved and we managed to go onshore almost every day that remained of the cruise.

Among the shore visits, I must mention Sorrento, which I visited many times before on my way to the wonderful island of Capri. This time, we did not have enough time for Capri, since our destination was the Grand Hotel Cocumella, where a concert was held in the hotel chapel. The five-star establishment had been converted from a 16th century Jesuit monastery with a dramatic view on the Bay of Naples. Cocktails were served in the gardens against the backdrop of a stunning sunset. It is the ideal setting for a romantic escape or a wedding.

Another wonderful place we visited was Ischia, where a concert was held at the Giardini La Mortella, created by Susana Walton, wife of the British composer Sir William Walton. The legend – and probably the reality – is that Walton was in Buenos Aires when met Susana, and was so besotted that he proposed after two weeks. After numerous love affairs and at the age of 46, Walton was probably mature and experienced enough to know and appreciate true love, which he appeared to have found with Susana. Together they moved to Ischia, where she created the Giardini with the help of landscape architect Russell Page, according to a design inspired by music. Susana and Sir William remained together until his death in 1983. The Giardini is a magical place where one can feel his love and dedication to her and her love and admiration for him. It is also an enchanting place to hear Sergej Krylov perform Pablo Sarasate's Ziegeunerweisen, a piece so full of passion and fire that it can only be a mirror of Walton's love and life.


Related videos:
Claire Jones plays at St. Dogmaels

Sergej Krylov – Mozart: Violin Concerto in A major K219, 1st movement

Itzhak Perlman – Sarasate: Zigeunerweisen


Photo credits: andrehavardphoto.co.uk