Kol Nidrei
is the one I've performed most. It's been my privilege to play this work each year for three decades. This melody is probably one of the most well known melodies among Jewish people. It opens the service for the Day of Atonement,
Yom Kippur
, during which we are required to examine our behavior of the previous year, try to do better in the coming year, and ask forgiveness of family, friends and co-workers, those we may have wronged intentionally or not. I am honored to "set the tone," aware that
Kol Nidrei
is sung or played worldwide on this Holy Day.
Originally for cello and orchestra, the heartfelt and haunting piece is one of Max Bruch's most beloved works. Bruch wrote
Kol Nidrei
when he became the Principal Conductor of the Liverpool Philharmonic, in 1880, for the Jewish community of Liverpool. He was a Protestant Christian who was inspired by the Old Testament, and used two traditional Hebrew melodies as the basis for the piece—the first, an ancient chant that begins
Yom Kippur
and the second Byron's poem, "
Those that Wept on Babel's stream.
'' The cello imitates the rhapsodic voice of the Cantor.
I rehearsed with the organist a few days before the Holiday. My chair had been placed right in front of the wrought iron and gold sliding doors where the Torah scrolls are housed—a place of honor. The organist was positioned way above me in a loft suspended over the sanctuary. He could barely see my bow via a small camera.
Last year a few minutes before the service I was surprised to find the hallway deserted. I hastened into the sanctuary to take my place on the
Bimah
—the elevated platform at the front. Where was everybody? After a few moments of uncomfortable silence the back doors burst opened and the procession started down the aisle towards me. As soon as the organist heard footsteps and the jingling of the decorative silver breastplates on the Torah scrolls he launched into the slow opening of
Kol Nidrei
. He couldn't see what was occurring. I panicked. There was much too much bustle to begin the soft, solemn opening with the Rabbi, Cantor and several others walking down the aisle. When the eight bar introduction to the piece was completed, the Cantor shook his head. For a moment the organist was mystified when I did not play. Then he vamped the opening—playing it three or four times, while people took their seats.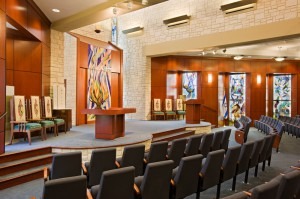 This year there was another surprise. I realized that the usher, who quietly closed the double doors to the sanctuary, mistook me for one of the latecomers. Grabbing my cello I raced up the stairs onto the

Bimah

. The clergy, the participants and the congregants were seated and hushed. It was then that I looked down— white marble floors! I had forgotten my puck that holds the cello endpin securely. There would be no way to jam a hole into

this

floor. Mumbling apologies to the Rabbi, clutching my cello, I flew down the stairs, out the closed double doors to the small room where I had left my cello case to get the puck. Security personnel had locked the room. The caretaker fumbled with his fistful of keys. By the time I retrieved the offending rubber anti-slip device and hurried back into the sanctuary my heartbeat was several times normal speed. Perhaps my unusually fast vibrato contributed to capturing the special tone of the piece.

This

time the organist didn't start without me.

Here are two special performances.

Gary Hoffman plays Kol Nidre in honor of Janos Starker – Rostropovich conducts!

Perry Como sings Kol Nidre with photos of the Budapest Great Synagogue where my parents attended.

Of all the pieces that I've performed over my career Max Bruch's