Lebanese composer Bechara El-Khoury (b. 1957- ) studied in Lebanon before continuing musical studies in Paris at the École Normale de Musique de Paris "Alfred Cortot" in 1979. A 1983 broadcast celebrating the centenary of the Lebanese-American writer and philosopher Khalil Gibran brought El-Khoury's music to the world's attention.
Many of his works have taken the war in Lebanon as their focus, including Symphonic Poem No. 1, Lebanon in Flames, the requiem Aux martyrs libanais de la guerre, and the symphony The Ruins of Beirut. For France, however, he has written a number of works for the École Normale de Musique, including Étude, Op. 51, for a 1992 competition at the school. It is written as a true test for the competitor, where 'every note is altered with an accidental' and the work 'is characterised by flowing writing, a flexible, frequently changing metre, subtle dynamic fluctuations and legato articulation almost throughout. A contrasting chordal motif appears towards the end, each occurrence of which is preceded by octaves for both left and right hand, in distant registers.'
An earlier competition piece, written in 1987 for the École Normale de Musique was Thème et Variations, Op. 45, that explores micro-form. The theme for the variations is only three bars long, but the variations that follow give it maximum expression through different realizations: expansive, expressive, flowing, meditative and violently agitated.
Bechara El-Khoury: Thème et variations, Op. 45 (Giacomo Scinardo, piano)

Italian pianist Giacomo Scinardo has an international career on stage and in broadcasting.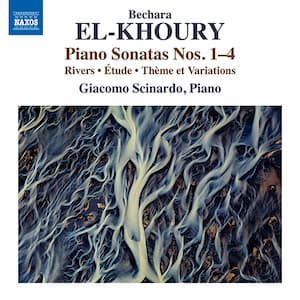 Bechara El-Khoury: Thème et variations, Op. 45

Performed by
Giacomo Scinardo

Official Website
For more of the best in classical music, sign up to our E-Newsletter