Johann Ludwig Bach: Trauermusik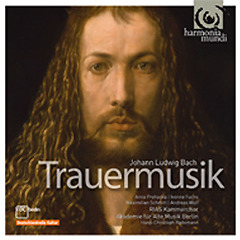 Johann Ludwig Bach: Tutti: Meine Bande sind zurissen



Tutti:

My bonds are broken asunder.

Lord, this is thy doing.

Now I may see at my feet

those whom once I had to obey;

Satan, Death and Sin.


Johann Ludwig, second cousin of Johann Sebastian, and Kapellmeister to the Meiningen court, was commissioned by the Duke Ernst Ludwig of Saxe-Meiningen to compose this funeral music in his memory.

The Trauermusik was based on a strophic song written by the Duke, and is by far, the largest and most ambitious of Johann Ludwig Bach's surviving compositions.