The first time I 'met' Jian Wang, it was through the documentary 'From Mao to Mozart', an exceptional award-winning account of the musical journey taken by violinist Isaac Stern through China in 1979. In it, little ten year old Jian performed in front of one of the most famous artists in the world with composure and focus. He was completely immersed in his music, displaying astonishing maturity for one so young. It was an entirely memorable experience.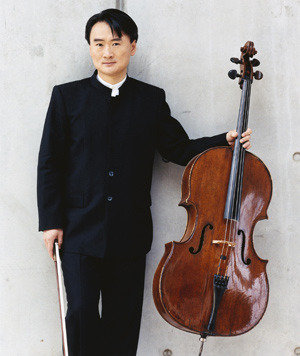 Many years later, during my Haydn period (yes, dear reader; although my favourite composer is and will always remain Bach, I do have periods of fondness for others – right now, it is Brahms), I fell in love with the Cello Concertos and proceeded to acquire a dozen or so recordings from various cellists. So as I was browsing the Haydn section in a local record shop one day, an unforgettable face on a CD cover caught my eye. Although it depicted a mature young man, I immediately recognised the unmistakable intensity of Jian Wang. His eyes remained very much the same as those of the little boy on the stage some twenty years ago. Needless to say, his recording became by far my favourite.

I was very lucky to find myself a humble passenger on the same Music Cruise Jian was performing on a few years ago. I still have a profound memory of experiencing his rendition of Schubert's Arpeggioni during a stormy crossing on the Mediterranean. My tummy was trying to cope with the ups and downs of the temperamental sea, even as Jian fought his own discomfort by sinking himself in the melodic strains of the Sonata. He nevertheless delivered a remarkable recital that was refined and delicate – definitely one of the best Arpeggioni I have ever heard.

I was once told that an artist can be an extremely different person from the music he or she plays. I used to have my doubts about that, since it was inconceivable to me that great artists could be simple banal mortals; they must have great personalities to create such music. After several disappointing encounters however, I've reconsidered this opinion.

I still remember a Russian violist, extremely talented and full of passion, with whom I had a drink following his concert. The memory of his superficial conversation paired with vulgar bursts of laughter still gives me shivers down my spine. There was also a famous pianist, with whom I had the honour of sharing dinner. During what turned out to be a dull and drawn out evening, I found myself desperately grasping for topics between bites. I would have been better off listening to him play and skipping the invitation to dinner. That is why I have serious reservations about meeting artists now, having become a much wiser groupie.

But Jian hails from a different category altogether. To my delight, I found him to be just the person his beautiful music would suggest. When I listen to him, I hear passion mixed with a certain melancholy. He plays in a simple, clean and sincere way, without fuss and pretension. When I watch him, he melts into the music and fuses with his fellow musicians, whether that's the pianist, conductor or other orchestra members. He is a humble artist who is open and attentive to others.

As a person, Jian is very down to earth, with a strong sense of integrity and a loyalty to both his roots and his friends. I admire the sincerity and honesty with which he expresses his music for the audience. Unspoiled by success and fame, he remains uncomplicated, friendly, generous and authentic – a real gentleman, a distinguished artist and a gracious individual.


Related videos:
Jian Wang – Bach: Cello Suite No. 4, Courante Sarabande

Jian Wang and Emanuel Ax – Brahms: Cello Sonata in F major, 2nd Mvt.

Jian Wang – Elgar: Cello Concerto, 1st Mvt.

Photo credit:
universalmusic.net.au