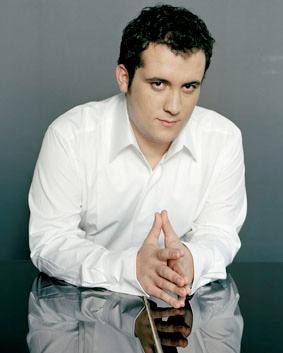 "The young Igor Levit, who shows not only great technical accomplishment but also a remarkable artistic maturity, shaped [Prokofiev's] concerto forcefully…A brilliant performance."
– Neue Zürcher Zeitung, April 2009
At only 23, Igor Levit has already made his debuts with orchestras such as the Luzerner Sinfonieorchester (with whom he performed Prokofiev's Piano Concerto No. 2 under Andris Nelsons in 2009), and the NDR Sinfonieorchester Hamburg under John Axelrod (with Prokofiev's Piano Concerto No. 1).

Other debuts this season have inlcuded Beethoven's Piano Concerto No. 3 with the Düsseldorfer Symphoniker under Gregor Bühl and Tchaikovsky's Piano Concerto No. 2 with the Wuppertaler Sinfonieorchester under Toshiyuki Kamioka in Wuppertal and Milan. He has also just returned from concerts in Tel Aviv with the Israel Philharmonic Orchestra under Christian Vasquez, where he played the Schumann concerto and Rachmaninov's Second Concerto.
He has toured several times with the English Chamber Orchestra, performing Mozart's Jeunehomme-Concerto, Beethoven's Piano Concerto No. 2, and Shostakovich's Piano Concerto No. 1 with Alison Balsom. He has also toured with the Chamber Orchestra of Europe under Vladimir Jurowski.
Upcoming engagements include Scriabin's Prometheus with the London Philharmonic Orchestra under Vladimir Jurowski, chamber music concerts, a recital and a concert with the National Philharmonic of Russia and Vladimir Spivakov at the Kissinger Sommer 2011, as well as Samuel Barber's Piano Concerto with the Göttinger Sinfonieorchester under Christoph Müller.
His chamber music partners include musicians such as Lisa Batiashvili, François Leleux, Valeriy Sokolov, Gautier and Renaud Capuçon, Daniel Müller-Schott, Mischa Maisky and Maxim Vengerov. He has recently appeared in chamber music concerts at the Kissinger Sommer – where he has just been awarded the 2009 "Luitpold Prize" for young artists – and has given recitals at the Braunschweig Classix Festival, the Festspiele Mecklenburg-Vorpommern and the Musikfest Stuttgart. Next season, he will give recitals at the Rheingau Musik Festival, the Kissinger Sommer, Schumannfest Düsseldorf and in Milan.
The youngest artist of the competition, Igor took four prizes at the 2005 International Arthur Rubinstein Piano Master Competition, won second prize at the 2004 International Maria Callas Grand Prix in Athens, and first prize at the International Hamamatsu Piano Academy Competition in Japan.
Born in Nizhniy Novgorod in 1987, he began playing the piano at the age of three and made his debut with the local orchestra aged six years. He moved to Germany with his family at the age of eight, and is currently finishing his studies at the Hochschule für Musik in Hannover where he studied with Karl-Heinz Kämmerling, Matti Raekallio and Bernd Goetzke. He also studied with Hans Leygraf at the Salzburg Mozarteum. Since 2003 Igor Levit has been supported by the Studienstiftung des Deutschen Volkes as well as the Deutsche Stiftung Musikleben, and has received a scholarship of the Villa Musica foundation in 2005. He has also been supported by the Jürgen-Ponto Foundation. He plays a Steinway D-grand piano generously provided by the foundation "Independent Opera at Sadler's Wells".
Related music:
Beethoven: Diabelli Variations, Theme
Related video:
Igor Levit – Reger, Telemann, Fugue from Variations and Fugue
Provided by HarrisonParrott.
Photo credit: Felix Broede