I met my dear friend Guy in the early '80s in Paris. We were young, innocent (at the very least, I was), fearless and full of foolish dreams… and then I moved to Hong Kong.

Over the past 20 years, we met several times: in Paris, Hong Kong, Montreal or London. And even after months or sometimes years of separation, every time we meet, it is like we just left each other the day before, and were able to pick up our conversation, feelings and bonding immediately. Guy is the most refined and delicate person I know, and probably the most knowledgeable in classical music.

The time we spend together could entail a nice lunch in a gourmet restaurant, a stroll in a museum, or just a walk through London streets, having him show me the hidden treasures of the city. It is always very inspirational to experience art and music with him.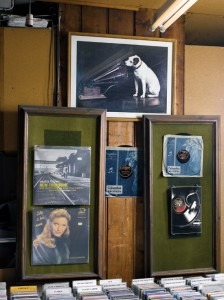 This is how I came to find Harold Moores Records — HMR, not HMV — where you can find old records in 45rpm, 33rpm, and even 78rpm formats, all cramped together in a basement. Yes, Guy has kept all his record players, and this is the place where he comes for refurbishment. And one can also find CDs from rare composers or artists, it is a real Ali Baba Tavern, where you can spend days listening, discovering and marveling at how immense the music world is, and how little we know. The shop is only 30 years of age, but it looks like it has been around for centuries, with its old shelves, boxes here and there, and a filing system that's got it's own logic.

The small team working there is knowledgeable, helpful and patient. Tim, a master in Beethoven, has given me some valuable recommendations, enriching not only my music appreciation, but also my CD library.

I know that our time is all about the Internet and downloading, but the pleasure is quite different when there's a real physical contact with the CDs; when you can flip through the titles, pick one up and listen to it while reading the insert booklet and chatting with the shop manager. Time is frozen for you to share your passion and enjoy the music.

HMR is a place from a different time; the only similar place I've encountered lately was in Prague, some years ago: a tiny little record shop behind the Old Town Square selling mainly Czech composers. Although the shop manager did not speak much English, with the international language of music, he managed to show me special recordings of Martinů, Janáček or Dvořák. That was one of the rare moments of peace, content and reward.

Now that I am working on Interlude, enjoying every moment of discovery, and traveling for music and pleasure, I guess the day I slow down, my wish will probably be to have a place similar to HMR in Hong Kong. A place where I can meet and greet friends and music lovers, share a story with them, and listen to some music over a cup of coffee or a glass of champagne. That will be true Art de Vivre.


Photo credit: creativereview.co.uk