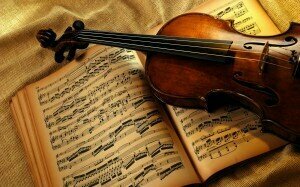 What is classical music and why does it make some people tremble in their boots? "Do you like classical music?" I ask. Responses range from, "I don't know anything about it!", "I can't sit still for that long…" and "I wouldn't know what to wear!" Perhaps without knowing it, you've heard and enjoyed plenty of "classical" music, more than you think! I'd like to help you learn to adore classical music like I do.

There are two meanings of the term "classical". It refers to a definite period and style in the history of music—of composers including Mozart, Haydn and early Beethoven—compositions mainly from 1750-1820, which are elegant, with lovely tunes. The epoch sets it apart from Baroque music of Bach and Handel, which has denser and stricter forms, and the music of romantic composers such as Mahler, Brahms, Strauss, whose music is full of passion and emotion. The terms also refer to the art, theater, and architecture of the aforementioned time periods.

The more general definition, whatever you call it—western concert music, art music, or classical music—is written to actually listen to, generally in a concert setting. The music portrays a wide range of sentiments and warrants listening to again and again, like a "classic" novel, or movie one might read or watch over and over. The music often incorporates elements of jazz, folk music, improvisation, world music, religious music, and in the case of more contemporary music, numerous varieties of percussive sounds, sounds from everyday life such as car horns, sirens, or noise, and electronic music. Classical music can be written for one performer, or for a few musicians, which is called chamber music, and for a huge number of players, such as a symphony orchestra of from 100 to 1,000 musicians, a chorus, or an opera, that is, singers with orchestra and full theatrical staging.

Whether the music is a deeply introspective piano sonata for one player, or a string quartet, or a symphony, the music depicts deep emotions, and the agony, gaiety, mystery, anxiety, fury, yearning, and ecstasy can affect us profoundly.

Beethoven: Symphony No.9 Ode to Joy
You've probably heard Beethoven's Ode to Joy, from his masterful Symphony No. 9, and during the Holidays, Tchaikovsky's Nutcracker Suite or Hallelujah Chorus from Handel's Messiah. If you live in the U.S., I am certain you've heard Peter Ilyich Tchaikovsky's 1812 Overture, complete with canons firing at the climactic end, and John Philip Sousa's famous march The Stars and Stripes Forever. And whenever there is tragedy we turn to Samuel Barber's Adagio and Nimrod from Edward Elgar's Enigma Variations, for solace. Classical music is in the background of cartoons and many of your favorite movies.

Elgar: Nimrod
It's important to start with what you like and know about yourself. Before you head out to your first concert experience, here are some suggestions to guide you. We will begin with the works for large ensemble, and then explore pieces for smaller groups. A little preparation on the sly will help.

Do you like musical theater?

Bernstein: West Side Story
Listen to West Side Story by Leonard Bernstein. It's inspired by the timeless Shakespeare tale of impossible love. Instead of Romeo and Juliet caught between their feuding families, the Montagues and Capulets, opposing gang members, the Sharks and the Jets, bring the story to its tragic conclusion when Maria and Tony fall in love. Here's a concert version of the love song Tonight.


Or listen to some of
Porgy and Bess
, an American opera in English by George Gershwin. It's full of folksongs and spirituals. If you love
Phantom of the Opera
, you might recognize the famous melody— suspiciously similar to an aria from
La Fanciulla del West
by the great opera composer Giacomo Puccini.
Gershwin: Porgy and Bess -Bess, You is My Woman Now
It Ain't Necessarily So
Puccini: La fanciulla del West – Act I: Quello che tacete me l'ha detto il cor
Do you like jazz?

Gershwin: Rhapsody in Blue (Leonard Bernstein)
George Gershwin's Rhapsody in Blue for solo piano and jazz band is a classic. It's been performed by everyone from band leaders such as Glenn Miller, to famous maestros such as the legendary conductor Leonard Bernstein. Eighty-four pianists simultaneously played Rhapsody in Blue at the opening ceremony of the 1984 Summer Olympics, and more recently, Herbie Hancock and the brilliant classical pianist Lang Lang played the piece at the 2008 Grammy Awards. The opening clarinet glissando or slide is instantly recognizable.

Is brassy and dramatic music your preference?

Berlioz: Symphonie Fantastique – Witches Sabbath

Beethoven: Symphony No. 6 – IV. Thunder-storm
Here are several examples. The fifth movement of Hector Berlioz,
Symphonie Fantastique
degenerates from a
Dies Irae
into a horrifying nightmare. All hell breaks loose eight minutes into the Witches' Sabbath. The fourth movement of Beethoven Symphony No. 6 portrays a storm. Listen for the rumblings of thunder and the lightening. Carl Orff's
Carmina Burana
, for orchestra, solo singers, and large chorus singing in medieval text about the lure of lust, drinking and gambling, might blast you out of your seat.
O Fortuna
, which opens the piece, rails against fate. Gustav Holst's The Planets is a crowd-pleaser.
Mars, the Bringer of War
in an unusual 5/4 meter (5 beats to the bar) begins mysteriously, but within a minute the brass wail. It's bombastic and powerful.
Holst: The Planets Mars (Susanna Mälkki)
You might also love other rhythmic music with lots of percussion.

Adams: Slow Ride in a Fast Machine
Listen to John Adams Slow Ride in a Fast Machine and the Sacrificial Dance from Rite of Spring by Igor Stravinsky. You'll see why it caused a riot at its premier. Sergei Prokofiev's Romeo and Juliet, Dance of the Knights has both the foot-stomping rhythm and seduction.

Prokofiev: Romeo and Juliette
If spooky music is your cup of tea

Mussorgsky: Night on Bald Mountain
Night on Bald Mountain by Modest Mussorgsky sounds menacing right from the beginning, and the climaxes build, only to be interrupted by silence. Cymbal crashes escalate as it gets faster. Spoiler alert—the bells calm the storm down, and the harp and clarinet end the work in tranquility. Want more frenzy? The climax of Béla Bartók's Miraculous Mandarin will make your hair stand on end! Even more challenging to perform and to listen to is contemporary composer Kaija Saariaho's eerie piece Laterna Magica based on an autobiography of movie director Ingmar Bergman. If you've seen any of his movies you'll know to expect provoking sounds. Hear Saariaho's thoughts on the piece, then imagine the illusions, the asymmetrical textures and rhythms, and the probing, searching, sensuous, murky sounds.

Kaija Saariaho: Laterna Magica
Do you like to dance?

Brahms: Hungarian Dance No. 1 in G Minor
Copland: Rodeo – 4 Dance Episodes – No. 4. Hoe-Down
The Johannes Brahms Hungarian Dances are quite infectious. The one in G minor is one of my favorites. If you're in the mood for cowboys, Hoe Down, from Aaron Copland's ballet Rodeo will fit the bill. Invitation to the Dance by Carl Maria von Weber begins with a tender cello solo, impersonating the shy man who hopes to lure a special young lady to dance. Evidently, he is successful and the twilling, whirling, waltz begins in less than two minutes.

Weber: Invitation to the Dance (HK philharmonic )
Composers of our time are stretching our concepts and presentation of classical music. Here's an amazing 2016 piece by Kerry Andrew, Who We Are for huge chorus 'a cappella' or unaccompanied. Don't worry. Nothing is missing, as the chorus creates their own effects by clapping, chanting, stamping, shushing, and gesturing.

Kerry Andrew: Who We Are for chorus
Perhaps you are in an introspective mood?


Stravinsky: The Firebird Suite – V. Berceuse (Lullaby)
Mozart: Piano Concerto No. 23 in A Major, K. 488 – II. Adagio
Ravel: Piano Concerto in G Major II. Adagio Assai
Not all Symphonic music is loud and splashy. Often the slow movements are gentle, delicate, and contemplative.
Listen to the lovely
Berceuse
from the ballet
Firebird
by Igor Stravinsky. I recommend the stunning slow movements of two piano concertos—works for piano solo with orchestral accompaniment. The adagio movements of Wolfgang Amadeus Mozart's Piano Concerto No 23 in A major, and Maurice Ravel's Concerto in G are full of heartbreak and tenderness.
I hope you've enjoyed exploring these works. But before we head to the concert hall, let's survey some classical music for smaller ensembles, which you might prefer or enjoy just as much.