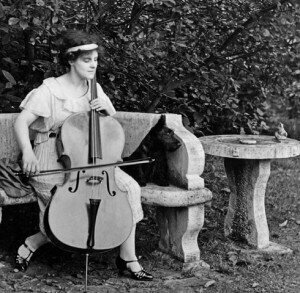 Beatrice Harrison (1892-1965), our next featured cellist, lived when the cello was beginning to flourish. Harrison was the leading British cellist of her day— the first woman cellist to play at Carnegie Hall, in 1913, the first woman soloist with the Boston and Chicago Symphonies, and the first person to be recorded out-of-doors with other creatures—in this case, nightingales, who spontaneously chirped when she practiced. The cello and nightingale duos were broadcast by the BBC live from her Surrey garden on May 19, 1924—and her name became known by millions of people in Britain, France, and Italy. Her audiences, enchanted, sent a total of 50,000 letters to her. Beatrice's musical forays with the birds became a yearly event until 1942. When the drone of British bombers could be heard in the background the BBC hastily stopped the music.

Nightingale Duet
Delius: Caprice for Cello, written especially for Harrison's American tour
Beatrice was born in India in 1892, the second of four talented daughters. After they moved to England, Beatrice's mother spent hours singing and playing piano for her daughters, determined to mold them into musical artists. May, the eldest, it is said, could sing a tune before she could talk, and could accompany her mother on the piano when her mother sang. Beatrice and May both entered the Royal College of Music, while Margaret was blossoming on the violin. At home studies were rigorous: practice early in the morning, harmony and counterpoint in the afternoon, then reading literary classics, and German and French lessons. Only later were dancing or games squeezed in. Beatrice seriously dedicated to her cello playing, kept a daily diary. Many of the entries read: "20th May, Good. 6 hours cello. 21st May. Good. 5 ½ hours cello. My concert dress is a white satin jibbah, quite plain…"


The family juggled living arrangements to make certain their gifted daughters studied with the best teachers in Europe. The entire family moved to Berlin when eminent cellist and teacher Hugo Becker accepted Beatrice as a student. Then, Margaret was ready to study with the great violin pedagogue Leopold Auer in St Petersburg. May and her mother accompanied her, while Colonel Harrison remained in Berlin with Monica and Beatrice.
Beatrice's first appearance was in Berlin, 1910, performing the Brahms Double Concerto for Violin and Cello with her sister May, playing the piece throughout Europe an astounding 59 times. Beatrice's spring of 1911 was very full, including her London orchestral debut in Haydn Concerto in D, Dvořák Concerto and Tchaikovsky Roccoco Variations. The reviews noted her pearly tone, impeccable phrasing, and immaculate technique.
Frederick Delius: Caprice and Elegy: Elegy
She championed many of her contemporaries—composers John Ireland, Percy Grainger, Arnold Bax who all wrote for her—but Beatrice was most closely associated with Delius' cello works.
Delius wrote his Double Concerto for Violin and Cello for Beatrice and her sister May. When the work was presented to them in 1916, they discovered problems. "The strange thing was that it was written in unison and technically was almost impossible to play, but with Delius himself and Perter Heseltine at the piano, we rewrote the cello part and made it playable. Delius sat for hours with a large cushion and the score on his knees, surrounded by four of our Scottie dogs, who took a great interest in the proceedings." (from Harrison's autobiography.) The concerto was not premiered until 1920 with Sir Henry Wood conducting. In the meantime, she premiered Delius' Cello Sonata, at Wigmore Hall, in October of 1918, and the first British performance of the Cello Concerto, which he wrote for her, followed in July 1923.
According to pianist Gerald Moore, "Delius wrote his violoncello works with Beatrice Harrison in mind, and no wonder, for she had a poignant and luscious cantabile well suited to his music. Her playing of one heavenly phrase of the Cello Concerto lingers in my memory… She sang on her instrument and had an infallible instinct…and a tone at once powerful and sweet." (from his book
Am I Too Loud?
) The concerto is beautifully orchestrated—exquisite and understated.
The video link above features a short clip from one of the BBC broadcasts. You can hear the nightingale singing along with Beatrice as she plays Dvořák's
Songs My Mother Taught Me
, followed by another work Delius wrote for her, his
Caprice and Elegy
.
Edward Elgar wanted Harrison to record his Cello Concerto after the disastrous premiere of the work in 1919, (cellist Felix Salmond was the soloist in the very under-rehearsed performance.) Since Elgar conducts, we gain insight into Elgar's preferred interpretation and tempos. Today's performances are often slower and melodramatic. Hers was nimble, animated, and transparent.
Edward Elgar: Cello Concerto in E Minor, Op. 85
Subsequently, Elgar asked Harrison to perform the work in Queen's Hall in London. Always conscious of her image, as well as her playing, she wore a "heavenly, turquoise blue chiffon frock, which suited the cello so well." Patricia Cleveland-Peck, editor of Harrison's autobiography, reveals a secret—Beatrice also wore blue underwear, and for every future performance of the Elgar Concerto, because it brought her luck! She later played the concerto with sounds of gunfire in the background, in August 1940, at Queen's Hall, just months before it was destroyed by German bombs.
Despite numerous proposals of marriage, Beatrice, as well as her three sisters, remained single. They were married to music. Beatrice Harrison was colorful and charming who travelled the world at a time when women were shielded from fully participating in society. You'll find her autobiography,
The Cello and the Nightingales
entertaining.
Beatrice Harrison Feature Story (Featuring Cellist: Clare Deniz)