written by Melissa, for Juliette.

In her annual attempt to inject some culture into her nineteen-year-old daughter's life, my mother forced me to attend the Festival International d'Opéra Baroque in Beaune. So it was with resignation and not a little irritation that my father, my brother and I accompanied my mother to the concert. Perhaps more irritation on my part because I knew the tedious task of article-writing would soon follow (no bitterness here).


The Egyptian-themed concert we attended was set in the Basilique Collégiale Notre-Dame, which is admittedly a rather stunning back-up venue (the concert would have been held in the open courtyards of L'Hôtel-Dieu de Beaune were it not for the rain forecast). The late evening light flooded through impressive stained-glass windows to illuminate the orchestra imposingly. The straight-backed wooden seats (which are, incidentally, not very conducive to sleep) were filled with prim, silver-haired ladies. Needless to say, I was easily the youngest member of the audience.

The programme began with the overture of Mozart's "The Magic Flute", followed by his Symphony No. 31. These well-known pieces were rendered more striking by the fantastic accoustics of the church. Two more performances followed: Rigel's hiérodrame, "La Sortie d'Egypte" and Mozart's incidental music written for the play "Thamos, König in Ägypten". The productions were stripped of all theatrics, down to the core element: music. No costumes, no stage props, no acting. I quickly understood how they had catered to the older audience. I perhaps lack the musical inclination and appreciation to give a proper account of the quality of the performances, but I can say that I thought the singers were, well, good. The choir especially sounded excellent, with the harmonies reverberating around the church, although this meant that it was sometimes difficult to hear what they were singing, but this is a minor point as it wasn't in English anyway.

It is with exasperation tinged with grudging gratitude that I acknowledge my mother's constant attempts to enrich my otherwise culture-sparse life. While you can probably tell from this recounting of the concert that I am in no way qualified to give a useful review, I can say that I listened to some fine music in a beautiful church. Maybe this will lead to a future passion of classical music, or maybe it won't (more likely). But if it means I am a little more cultured, and I make my mother a little happier, then sure, I recommend this festival.


Related video:
Mozart – Thamos, König in Ägypten


Beaune and Burgandy

Beaune, home of the Festival International d'Opéra Baroque, is small. Walking around its perimeter would take, at most, several hours. There are a few attractions: l'Hôtel-Dieu, Notre Dame, the vineyards… Otherwise, take Beaune at face value and stroll through the marketplace and soak up the simple pleasures of being in a charming French town. There are many bistros serving up the local specialties such as bœuf bourguignon and œufs en meurette, but after a few meals the Burgundy-heavy sauce becomes repetitive. I therefore would not recommend spending more than two or three days in Beaune, unless you plan on drinking copious amounts of fine Burgundy wine and promptly forgetting that you have already visited the hospice. My family and I did not do this, and consequently we were prepared to leave after one day.

The way in which we travelled to Beaune is much more worthy of note. French Country Waterways has a fleet of luxury hotel barges which cruise down the canals and rivers of France. Horizon II, the boat upon which we cruised down the canal of central Burgundy, is a spacious barge with a decadently long sundeck and four staterooms to accommodate eight passengers. The barge travels at a very slow pace, such that it is easily overtaken by a leisurely jog. It generally cruises for several hours a day, giving passengers the opportunity to walk or cycle (or whatever, really) alongside the barge. Unlike the view from a large luxury cruise liner, which is mostly one of infinite ocean, the view from the barge is one of an unfurling tableau of French countryside.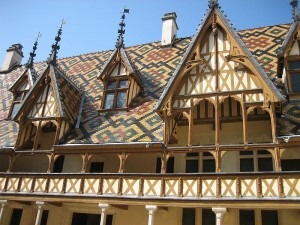 The talented and innovative chef on board did his best to ignore any claims of watching waistlines and counting calories, and we were helpless to resist. The fact that three different French cheeses were served at every meal helped none (I'm a sucker for cheese). Lunch was typically a buffet, consisting of a light buffet of salads with surprising combinations of fruits, nuts and leaves, accompanied by an unconventional dressing such as tarragon or apple cider. The flavours met in an unexpected but simple and tasty union which left you wondering why you had never thought of that particular combination yourself. Dinner was always spectacular, three exquisitely thought-out courses to rival the best Michelin-starred restaurants. Even the simplest of dishes were well executed with small but significant touches which made the world of difference. Our initial doubts of having all our meals on board soon evaporated and we looked forward to every chef's creation.

Every day there was a sightseeing opportunity scheduled in a nearby destination. We visited the town of Noyers, considered one of the most beautiful villages in France, full of bustling energy and cordiality. The château of Ancy-le-Franc was a veritable palace, with countless rooms beautifully restored. We toured the 18th century forge of Buffon, brimming with history and innovation. One of the most beautiful sights for me was the Abbaye de Fontenay, a former abbey with its original archways, cloisters, forges and gardens.

All in all, this was a highly enjoyable week, with just the right amount of sightseeing to keep from being boring, but not too much that it was stressful or tiring. The food was superb, the crew friendly, the service personal. If you need a break from fast-paced life, spend a week on a barge with fantastic food, relaxing seclusion and great destinations.


Photo credits: members.virtualtourist.com, en.wikipedia.org