The Cyclades islands in Greece are a set of islands that encircle the main island of Delos. They are known in the art world for their flat-faces sculptures from the late Neolithic period. Between 3000 and 2000 BC these islands were the centre of the Cycladic civilisation and produced an amazing array of stone sculptures that show the creative vigour of the area.
The Cycladic culture also depicted musicians.
Cuban composer Leo Brouwer (born 1939), whose repertoire extends to vocal, orchestra, and chamber music, is best known for his guitar music. A guitarist himself, he attended the Hartt College of Music and then Juilliard where he studied both guitar and composition. His playing career ended in the early 1980s due to a hand injury.
In his work Las Cíclades arcaicas, Brouwer invokes the ancient world of the Cyclades, adding in fragments of Greek rhythms and melodies, brief reveries, and moments of dramatic silence. He also provides the opportunities for intricate filigree passages, matching the art of the ancient culture. It is the silences as much as the playing that brings out the aesthetic purity of the work.
Leo Brouwer: Las Cíclades arcaicas (The Ancient Cyclades) (Ji Hyung Park, guitar)

As we look at the Cycladic art today, we could be in 3000 years BC or viewing a 20th century work by Brâncuși.
In the same way, Brouwer evokes the past but puts in within a very modern context. This isn't the music of ancient Greece, this isn't the music of Greece, this is the music of someone viewing the products of Greece's history and reflecting it in his own style.
Performer Ji Hyung Park (born 1993) was the winner of the 2018 Changsha International Guitar Festival. In 2014, he was the first Korean to enter the Paris Conservatoire and where he earned his master's degree in guitar. He has been entering and winning competitions, in Korea, Romania, Italy, Spain and Egypt.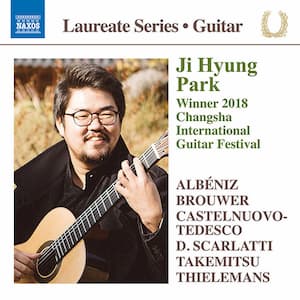 Leo Brouwer: Las Cíclades arcaicas

Performed by
Ji Hyung Park

Official Website
For more of the best in classical music, sign up to our E-Newsletter