'Don't be afraid to go out there and sing'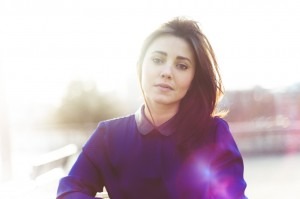 Our conversation resumes after a brief lapse in signal. 'The signal is terrible sometimes,' she exclaims. 'You'd think in a big city like Paris there'd be no problem, but sometimes it doesn't even make it through the wall!'

Thankfully, there's more to life for this soprano than a questionable internet connection. Speaking from her base in the French capital, Norma Nahoun mentions her love of her city, and how easy it is to escape quickly from the hustle and bustle – and with a schedule such as hers, augmenting season upon season, it's not hard to see why she values quiet time as much as the hours spent in the rehearsal studio and on stage.

'I go and see my mom – that relaxes me a lot. She's a big part of my life; we go and sit in the garden, and we chat. Of course I read, stay in bed and watch TV, all the usual things, but I would say the two things that really make me take my head out my work are going to a bar with friends and having good wine, or seeing my mom and chatting with her in the garden.'

Norma speaks of her trips to her mother with great fondness. 'She has a lot of garden, and you can hear the birds, it's really nice. In Paris,' she states, 'it's hard to get away. If you have two days, you can take the car somewhere, but if not, it's really hard to relax.'

Of course, Norma gets away from Paris quite a bit these days, but always for work. She's appearing soon in productions in Nantes, London, Bruges, Amsterdam, and Berlin, with a lot of travel involved in between. Does she prefer staying close to home, or venturing afar?

'It can be hard travelling far from home, but I enjoy both – I like being somewhere where it's not like home, but I also enjoy doing a production not so far from Paris so I can come back on the weekends. Both are nice, but you have to think about organising your time to have a break, and in between shows as well, to make sure you have time to practise, and get everything by heart.'

Norma Nahoun sings Poulenc's song "C"
With each new opera house visited, and with every new production under her belt, Norma takes the opportunity to get to know as many involved with the production as possible – and also to revisit old friends.
'It's not like in an ensemble, where you always work with the same people. Often there'll be at least one person you've worked with before, which is really nice, but every time you become close to the other cast members, and stage director. I often get to know the technical people really well too!'
Creating and sustaining a personal network of contacts is one of the main tasks of any musician. Even while she was still studying, Norma was going out and singing to people, accruing advice, and widening her perspective outside that of just the conservatoires in Paris and Berlin where she spent time learning with Laurence Equilbey and Norma Sharp – and she advises young singers to do the same.
'I would say not to be afraid to go and audition, to hear the critics. Very easily you can study for five or six years and only hear the opinions of people inside your school, and I think people from all over the industry should hear you. As soon as you feel ready.
'And sometimes before you feel ready, it's good to go and get advice. It could be that you're already ready and don't believe in yourself enough, or if the feedback is bad, it makes you push yourself out of the box of the school. I wouldn't say audition when you're sixteen, of course, but when you've been studying, go out there and audition, go and sing to people outside of the school.
'It's dangerous to not realise what's out there after you finish studying – when it's over, it's over.'
O mio babbino caro – Puccini