American composer Charles Tomlinson Griffes (1884-1920) started his piano studies in upstate New York before doing further study in Berlin. He then started studying composition, working for a while with Engelbert Humperdinck. When he came back to the US in 1907, he was director of music studies at the Hackley School for boys in Tarrytown, NY; although he disliked the job, he held it until his death 13 years later at age 35 during the international Spanish Flu pandemic. It afforded him free time in the summer for composition in New York City.
Although his training inclined him towards German romanticism, he followed that with a distinct affinity for French impressionism. His output was fairly small but he wrote across genres ranging from song and piano music to orchestral music and dance works. One notable part of his output were songs and ballets on Asian themes, including the song set Five Poems of Ancient China and Japan, Op. 10, and Sho-jo, a Japanese pantomime in one scene.
Among his piano works was a cycle completed in 1912: Three Tone Pictures. All based on evening ideas, the first movement was The Lake at Evening, followed by The Vale of Dreams and then The Night Winds. The titles alone speak to Griffes' ability to create imaginary landscapes and these miniatures evoke a quiet lake at twilight, a fantasy valley, and the winds that bring dreams. His poetic ideas are perfectly evoked in this work. The work was arranged in 1915 for chamber ensemble and in 1919 for orchestra.
Charles Tomlinson Griffes: 3 Tone-Pictures, Op. 5 – No. 3 The Night Winds
Pianist Michael Lewin is currently on the faculty of the Boston Conservatory at Berklee where he teaches piano. His international career has taken him around the world, performing with orchestras around the world. He was awarded bachelors and masters degrees from The Juilliard School of Music and studied additionally with Leon Fleisher and in France with Yvonne Lefébure.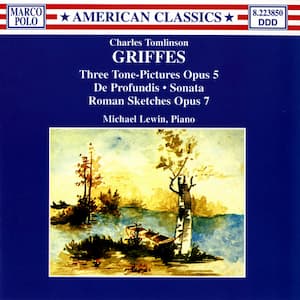 Charles Tomlinson Griffes: 3 Tone-Pictures, Op. 5 – No. 3 The Night Winds

Performed by
Michael Lewin

Official Website
For more of the best in classical music, sign up to our E-Newsletter