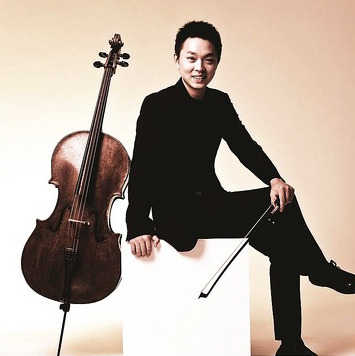 "Li-Wei is the most gifted young cellist I have heard. Aside from an extraordinary technical fluency, he has a musical intelligence and sensitivity which is breathtaking both for its maturity and profound vision" – Paul Cutts, The Strad
"Li-Wei is an enormously promising cellist…charismatic, generous and committed." – The Guardian

Born in Shanghai in 1976, Li-Wei Qin moved to Australia at the age of 13, and had classes with Nelson Cooke at Melbourne University. In 1995, he received a scholarship to study with Ralph Kirshbaum at the Royal Northern College of Music in Manchester, England. During his studies, Li-Wei had already won numerous prizes, such as the Australian Broadcasting Corporation's Young Performer of the Year, the First Prize in the Adam International Cello Competition, and a Special Distinction in the Rostropovich International Cello Competition. In 1998, Li-Wei won the Silver Medal in the Tchaikovsky International Competition, and became the champion of the Naumburg Competition in New York three years later.
Throughout the years, Li-Wei has enjoyed successful collaborations with prestigious orchestras around the globe, including the Rundfunk-Sinfonieorchester Berlin, London Philharmonic, Prague Symphony, BBC Scottish Symphony, Sinfonia Varsovia and the Munich Chamber Orchestra. In recital and chamber music, Li-Wei is a regular guest at Wigmore Hall, and has made a highly successful début at Lincoln Center. He has participated at various Festivals, for instance the BBC Proms, the Rheinghau, the Shanghai International, the City of London, the Jerusalem, just to name a few.
As a recording artist, Li-Wei has his first CD for the ABC Classics label, featuring the Dvořák Cello Concerto and Tchaikovsky's Rococo Variations with the Melbourne Symphony Orchestra. His most recent releases include the Elgar Cello Concerto, as well as various recital discs with Decca and EMI.
Li-Wei is currently a scholar-in-residence at the RNCM, and has been appointed Artistic Director of the Jin Mao Concert Hall in Shanghai. He also serves as the Head of Cello Studies at the Yong Siew Toh Conservatory of Music, Singapore. Li-Wei plays a 1780 Joseph Guadagnini cello.
Related videos:
Li-Wei Qin – Elgar: Cello Concerto in E minor

Li-Wei Qin – Rachmaninov: Cello Sonata in G minor, 3rd movement

Photo credit: clickthecity.com