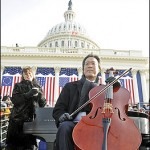 In 1961, Pablo Casals played for John F. Kennedy at the White House. The concert could be seen as a symbol of the importance of the arts to the Kennedy administration, or as a gesture of honor to a great cellist.


But there's no question, when the concert is re-created next year as part of the Kennedy Center's tribute to the 50th anniversary of Kennedy's inauguration, about who will represent Casals. When there's a commemorative event that calls for classical music, Yo-Yo Ma is almost sure to be the person playing it.
"My involvement in the political arena is to make sure there's a place for culture," Ma said in a recent interview over breakfast near his home in Cambridge, Mass. And one of music's accepted roles is a commemorative one. "Weddings, bar mitzvahs, funerals, an inauguration," Ma says, "those are the moments when it serves a moment." And Ma is happy to make music wherever it's needed. After all, it helps get the message across.
In every generation, a few musicians reach a level of fame that takes them into an orbit beyond their art. They become iconic, like Pavarotti; they become spokesmen, like Bono; they come, at the very least, to represent their field to a wider public.
Ma, 54, has certainly reached this level. He's one of the most recognizable classical musicians on the planet. Extroverted and smart, he's a natural spokesman for the arts. It's almost a matter of course that he represents classical music on the President's Committee on the Arts and the Humanities and is a U.N. peace ambassador.
And Ma is no stranger to music in the White House. He has played for nearly every administration during his lifetime: for Obama's inauguration, for George W. Bush, for Clinton, for Reagan — even for the fictional president in "The West Wing." When he was 7, he played for Kennedy.
Many artists at similar levels of iconic fame have stagnated creatively: Pavarotti's performances at his fundraising concerts for children affected by war, for example, were far below the singer's best work. What's distinctive about Ma is that he's clearly continuing to develop as an artist, as if all his quasi-political activity is part of a larger continuum.
In the fall, Sony Music released a commemorative box set of Ma's life's work: 90 CDs, from a 1979 stint accompanying tenor Robert White in Beethoven's English folk song arrangements to a live Chicago Symphony performance in 2008 of John Williams's suite from the film "Memoirs of a Geisha." It's an impressive range (at an impressive price — the set originally retailed for $800, although it's available from Amazon for $495).
The collection also demonstrates that there's been no drop in the level of Ma's performances, no matter what he tackles. Those include forays into different musical genres, which classical music purists bridle at but which have become one of Ma's calling cards: the film music of Ennio Morricone, traditional American fiddling with violinist and composer Mark O'Connor, and his ongoing work with the Silk Road Ensemble, a group he created in 2000 to explore exchanging music of different cultures.
Commanding connections
Ara Guzelimian, dean of the Juilliard School and former artistic adviser for Carnegie Hall, has known Ma since the 1970s. "I think in Yo-Yo's case," he says, "all of the things he does and his public role have helped keep reinventing him as a musician. That's not only kept him alive, but fresh."
"I just finished playing a bunch of recitals with him," said pianist Emanuel Ax, one of Ma's earliest and most frequent collaborators, speaking by phone last week from Europe. "I think he's playing better than he's ever played."
If Ma weren't a cellist, he could be a world-class politician. His gift for connecting with people is stunning. Some stars have a presence that commands attention; Ma, by contrast, makes you feel like his best friend, whether you're an orchestra musician, one of the backstage crew or the owner of the restaurant Henrietta's Table in Cambridge, a town where he and his wife, Jill Hornor, a German professor whom he met as a teenager at the Marlboro music school in Vermont, have lived for decades.
"The way he treats a stagehand, it's exactly the way he would treat the queen of Holland," says Joseph Kalichstein, the pianist and artistic director of the Kennedy Center's Fortas Chamber Music Concerts.
"I realized late in life," Ma says, "that my twin passions are music and people. Maybe that's why I'm an odd person in this profession." The word "odd" is the closest Ma will come to acknowledging that he has special status in his field.
If you've ever seen him play, you know what he's like to talk to: In conversation, Ma offers the same sense of intimacy, ease and connection. Onstage, though, he's following the phrasing of the score; in person, words and thoughts tumble out of him, and phrases are left dangling in midair as his brain makes a new connection. Even in talking about the things that have shaped him as an artist and a person, which he has probably discussed often, there's a sense of discovery and freshness, as if he's formulating the thoughts for the first time.
The freshness, and the simultaneous focus on details and the whole, are equally characteristic of his playing. "We're taught to hold two different things in our head at the same time," he says. "You have to have the biggest picture, whatever that is: the era, or the vibes, or the universe or whatever, you know. And then you have to focus on the infinitesimal detail of the moment."
The common thread between playing and talking is communication, he says. "I may think something's important, but until you think it's important, it doesn't really matter what I do." As a result, he says, "I've got to know who you are."
'What a huge world'
Ma's worldview is in part the product of a liberal arts education. Studying at Harvard, rather than attending conservatory, meant expanding his view to extra-musical subjects (he's an avid student of anthropology) and developing, out of necessity, his ideas about communicating with a wider audience. "I may have been passionate about music," he says, "but people in my dorm were equally passionate about other things. So suddenly, it was like, oh, my gosh, what a huge world."
His instrument, too, contributed to turning him outward, by virtue of the relative narrowness of its repertory: a few concertos, a lot of chamber music. If you're a cellist, Ma says, "you play well with others. Because if you don't, you're not going to have much life." In other words, he has spent much of his life thinking about ways to reach people. His current stature may be a natural development of what from the start appears to have been an uncanny ability to get along with people.
Pianist Yefim Bronfman remembers encountering Ma at Marlboro when both were teenagers and Bronfman had just arrived in the United States from Israel. "He had such a personality that everybody on the bus was smiling," Bronfman says. "And he actually managed to make me understand what he's trying to say, although I [didn't] speak a word of English. He had that kind of personality."
But the scope of Ma's activities is also an outgrowth of a search for what he calls "playmates." They have included federal judge Mark Wolf, who met Ma on vacation, invited him to take part in a conference on theologian and Bach specialist Albert Schweitzer, and thus sowed the seed that grew into the multimedia, multigenre project "Inspired by Bach." The project was a not entirely successful series of films in which Ma worked with artists from other fields — including a Kabuki actor and ice dancers Jayne Torvill and Christopher Dean — to reinterpret the Bach cello suites.
Another playmate is Tim Knowles, director of the Urban Education Institute at the University of Chicago. Over lunch one day, Knowles told Ma of a study that showed that six of 100 ninth-graders in Chicago's public schools graduate from college by the time they're 25. "I can't live in a country that — and this is not just Chicago," Ma says, characteristically leaving his first thought half-finished. "I've been thinking about this ever since. What can I do? How can I be useful?"
One answer is emerging in a year-long pilot program that Ma's Silk Road Project is trying out in five New York City public schools, developed with the sixth-grade social studies curriculum.
A common note: Music
There's one thing Ma's endeavors have in common. As socially aware as they may be, or as political their dimensions, they're all about the music. Ma doesn't find causes and attach himself to them; rather, he follows what he already does to its utmost extreme. Music is "powered by ideas," he says. "And to understand that is huge, because then the ideas can galvanize people together, as opposed to . . . 'I have a better vibrato than you.' "
"Most of Yo-Yo's role as a public figure has been in his creative energies," Guzelimian says. "I think [violinist] Isaac Stern was a more civic personality. Yo-Yo's actions tend to grow less out of that civic arena and more out of bridging peoples and bridging cultures and bridging music."
Indeed, any controversy that Ma has caused has been occasioned by music: specifically, his forays into other genres, which, particularly when he started them, ran counter to the idea that a classical musician ought to stick to the classics.
"I think he's an example of why we all need to get out of the niche, if we're able to," Ax says. "I'm somebody who's incredibly boring and just does the same thing all the time as well as I possibly can. It's people like him who lead the rest of us to the thought that music is music; it's not 'classical' or 'pop.' "
Ma has proved himself prescient in pushing the boundaries of the field in ways that seemed radical in his day (he took particular heat for "Inspired by Bach") but that are now par for the course for today's young musicians, such as the players in the Silk Road Ensemble, who think nothing of collaborating with a tabla or kamancheh player one day and playing a Schubert sonata the next.
"I happen to think he's about 5 or 10 or 20 years ahead of everybody," says Eric Jacobsen, a cellist with the Silk Road Ensemble and a co-founder of the Brooklyn Rider quartet and the unconventional chamber orchestra the Knights.
In fact, if Ma has come to represent music beyond the boundaries of the field, it's partly because he has the vision thing down: a practical idea of what music, and the arts, and a life in them, can mean, expressed not only in words, but, more unobtrusively, in actions.
"I don't know if he can see a horizon," Jacobsen says. He talks about trying to imagine the outer limits of the universe after reading Stephen Hawking's "A Brief History of Time." "I think Yo-Yo's vision goes that far," Jacobsen says. "I can't imagine it, but I think we're all trying."
And there's more to all of these inquiries than just trying to satisfy an inquiring brain, even if Ma himself is still figuring out all the connections.
"I used to know . . . [William] Styron," he says, as he pushes back from the table. "He used to say that as a writer he wanted to tackle the hardest issues of the time. And that was also one of those moments where I thought, Wow. Yeah. Right."
"That's my job as a performer," he says. "As a human being."

Anne Midgette | March 14, 2010
Weblink: www.washingtonpost.com