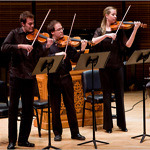 REVIEWING Juilliard415 recently, my colleague James R. Oestreich puzzled over the name of this new period-instrument band and that of another Juilliard group, Ensemble ACJW. The meaning of the names didn't stop him: as someone with a longstanding passion for early music, he would immediately have recognized 415 as an allusion to Baroque pitch.


(The note A is believed to have been tuned, on average, to something closer to 415 cycles per second than to today's standard, 440 cycles; the letter A is highlighted in the Juilliard415 logo as a clue.) And ACJW refers to the Academy, supported by Carnegie Hall, the Juilliard School and the Weill Music Institute.
The question, instead, was why Juilliard had become so enamored of names that most listeners would find inscrutable. Fair enough. But I say, let's hear it for inscrutability, at least of a certain kind.
Juilliard415 strikes me as a great name precisely because it is obscure but not impenetrable. Much of the ensemble's target audience will figure out its meaning relatively quickly: it is germane to both the repertory and the performance style the group has adopted. Nor is Juilliard415 alone in finding its identity in Baroque pitch. The Ensemble 415, founded in Switzerland in 1981 and now based in France, is scheduled to make its New York debut at the Frick Collection in October.
But the best thing about Juilliard415's name is that it creates an air of mystery, enough to get listeners thinking. And once they solve the riddle, or have it explained to them, they will probably remember the name. If the performances are good, so much the better: in listeners' minds Juilliard415 is transformed from a head-scratcher of a name to the emblem of a fine period-instrument band.
Ensemble ACJW, on the other hand, is a terrible name. When the riddle of its initials is solved, it is about the corporate sponsorship of an educational program: a worthy cause, but something concertgoers find mildly interesting at best. I am all for arts education, and the support of it, but even having heard and written about several ACJW programs, I cannot remember those initials or what they stand for without looking them up.
I have no such problem with ACME, a group that started about the same time. Its name is an acronym for American Contemporary Music Ensemble, but it also has a standard meaning as well as a whimsical undercurrent that any fancier of 1960s cartoons will appreciate.
Only relatively recently have classical music ensembles started to regard their names as opportunities for creativity. Traditionally orchestras have named themselves after their cities or sometimes their specialties, as with the American Composers Orchestra, the Opera Orchestra of New York or the period-instrument Orchestra of the Age of Enlightenment.
Chamber groups, though slightly more daring, have overwhelmingly followed that lead and adopted the names of their original locations or of the music schools where they were formed. Celebrities banding together for occasional chamber music projects have simply strung their names together: think of Rubinstein-Heifetz-Piatigorsky, Istomin-Stern-Rose, Ashkenazy-Perlman-Harrell. String quartets have been fond of instrument makers (Guarneri, Stradivari) and composers (Beethoven, Sibelius, Borodin).
When a group like the Brentano String Quartet tweaks the formula by referring to Beethoven only obliquely (Antonie Brentano being the likely subject of Beethoven's "Immortal Beloved" letter), it stands out against the blandness. Obviously, what a group does with that attention is the crucial thing, and the Brentano quartet has built its reputation firmly on superb performances and on programming that balances contemporary and standard repertory inventively. I remember being intrigued by its name when I heard its debut concert in 1994. No doubt listeners just discovering the group still are.
Pop musicians have always had a healthy regard for names. They understand that a name is an opportunity to create an image and that it makes sense for that image to convey something about their intentions.
The Beatles went through several relatively bland names before settling on that of an insect (inspired by Buddy Holly's Crickets), with a spelling tweak to make a pun on beat. Obvious as it seems now, not everyone got it at first: the origin of the name was a perennial topic at news conferences. The Rolling Stones telegraphed their early intention of being a blues band by taking their name from a Muddy Waters song (a reference other blues aficionados would have picked up). You could hardly hope for a more evocative name for a 1970s glam-rock band than the New York Dolls, or for a heavy-metal band than Iron Maiden or Megadeth.
Soloists in the pop world think carefully about their names too. It is possible that Robert Zimmerman might have been the great American folk poet of the 1960s even if he hadn't changed his name to Bob Dylan; but given his poetic aspirations, glomming onto Dylan Thomas's first name was an inspired idea. Elvis Presley was given a name good enough to sustain two careers: when Declan McManus was seeking a stage name in the mid-1970s, he settled on Elvis Costello.
Prince and Madonna wisely dropped all but their first names, an idea taken up in the classical music world by the violinist Midori. Now the pianist Yundi Li wants to go the single-name route as well: his latest recording (Chopin nocturnes, on EMI) identifies him only as Yundi.
Memo to Yundi: Changing your name once you're famous is almost always a bad move. In rock, David Bowie (the former David Jones) wanted to be called Bowie for a while but gave up. Prince's attempt to change his name to an unpronounceable glyph was equally unpersuasive, and in classical music the violinist Nigel Kennedy was not notably successful in persuading listeners to forget his first name. If you're Midori, and we've known you only as Midori, that's fine. If you try to change your name midstream, you look silly, unless, like the pianist Stephen Kovacevich or the rock singer John Mellencamp, you drop a stage name (Stephen Bishop, in the pianist's case; John Cougar, in the rocker's) in favor of your real one.
Not surprisingly, new-music ensembles — particularly groups of young players who grew up absorbing lessons from the pop world — have been the most aggressive about finding colorful names. Bang on a Can perfectly captures the ethos of the festival it originally designated and the ensemble — part rock band, part classical group — that it spawned. Alarm Will Sound could only be a new-music group, and though you might not guess its penchant for orchestral transcriptions of electronica and garage rock, its name hints at its wild side. Ethel is such a peculiar name for a string quartet that it too could only be a new-music group.
You might not know exactly what to expect of itsnotyouitsme, with its E. E. Cummings orthography and pop culture spirit; but when you hear its blend of rock, electronica and chamber music, it sounds about right. And the oddly punctuated counter)induction and Ne(x)tworks are unlikely to be Beethoven and Brahms specialists.
Still, a name like Juilliard415 actually tops all these, because it invites you to invest time and effort figuring out its meaning, and that cements the name more firmly in your mind.
But this, you may object, is about marketing, not about music.
Sure it's about marketing. Welcome to 2010. But it's about music too. Getting listeners stuck on your name is just about getting noticed and guaranteeing you'll be remembered. That could be a double-edged sword. If, having lured the curious, you give a killer performance, the name becomes a gift that keeps on giving. The Brentano String Quartet, Alarm Will Sound, Eighth Blackbird, Ethel and many other enterprising bands have found that to be the case; perhaps Juilliard415 will too.
On the other hand, if you fail, you fail in a bright spotlight, and that catchy name will have listeners saying, "Oh no, not them."
But in that case, you could take a page from the playbook of the British rock band Jethro Tull. During its early days as a pub band, it was so unpopular that the only way it could get steady work was by regularly changing its name. Jethro Tull is the name the band happened to be using the first time it was actually re-engaged.


Allan Kozinn | May 11, 2010
Weblink: http://www.nytimes.com/