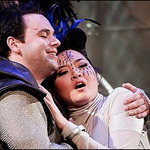 Opera endings can be the most difficult things to write. Giacomo Puccini died before finishing "Turandot." Alban Berg did not complete "Lulu." Arnold Schoenberg didn't finish "Moses und Aron." These works are left enigmatically dangling, or completed and reconstructed by others.


But seldom does an audience get to write the ending itself. This weekend, the Wolf Trap Opera is providing an opportunity.
Mozart's "Zaide" is not a masterpiece on the order of the works mentioned above. If you haven't heard of it, it's because the composer never got around to finishing it and it wasn't found in his papers until after his death. If you have heard of it, it's because it's occasionally done these days and recently had a high-profile production by Peter Sellars that originated during the 2006 celebrations of the 250th anniversary of Mozart's birth.
It's a singspiel, which generally denotes a light comic work with spoken dialogue between the sung numbers. But it doesn't have an ending. In fact, it's missing its final act.
When Wolf Trap started thinking about staging "Zaide," the question immediately surfaced of how they wanted to end it. There were plenty of options. Italian composer Luciano Berio wrote a sequence of pieces meant to accompany the work, with a projected text to explain how things came out; novelist Italo Calvino wrote a libretto that incorporated all the extant music in a different context. "We decided we didn't want to add anything of that nature to it," says Kim Pensinger Witman, the general director of Wolf Trap.
But they weren't sure what they did want to do. Witman says the stage director, James Marvel, pointed out that "any decision we make is a bit arbitrary. Let's wait till we get to rehearsal and work out what seems to be right."
In rehearsal, they worked out three variants. One is a tragic option, ending just where Mozart's music stops. The two others at least leave all the characters alive at the end. But none seemed definitive. Finally, they decided to involve the audience.
On Friday, Saturday and Sunday, therefore, "Zaide's" viewers will be able to determine their own — or at least the characters' — fates. Audience members will get to vote at intermission. Happy ending or sad? Status quo or unexpected plot twist? The musical difference is negligible: The endings, no more than a couple of minutes each, involve the reprise of numbers that appear in the opera. Still, it isn't often the audience gets to choose how it wants to leave the theater.
"We decided the best way to honor this would be to leave it open-ended," Witman says.


Anne Midgette | June 10, 2010
Weblink: http://www.washingtonpost.com/