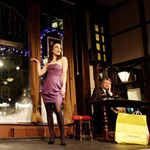 Opera doesn't have to be produced in grand venues to make an impact. Just look at what we've done to the King's Head.


Ever since my company OperaUpClose announced that we were turning the King's Head into London's third full-time opera house, we've been inundated with feedback. Most of it has been extremely positive – ticket sales for the opening production of The Barber of Seville are more than encouraging – but some people are obviously dubious about the merits of "pub opera".
I confess that I'm a bit puzzled by this attitude. There seems to be an assumption in some quarters that opera can only be done "properly" in a large-scale venue such as the Royal Opera House or the Coliseum. Those establishments do brilliant work, of course – I love going to both, and obviously the new King's Head venture is intended as a supplement to, rather than a replacement for, those houses – but the greatest operas, like the greatest plays, cry out to be experienced in a variety of contexts and at different scales. Our production of La Bohème, for instance, which was directed by Robin Norton-Hale and premiered at the Cock Tavern last Christmas, made a virtue of its comparative poverty of means. Audiences really responded to its updated, site-specific take on Puccini's tale of bohemian love and suffering – pub opera can do claustrophobic garrets much more evocatively than opulent Covent Garden.
Opera doesn't have to be lavishly produced to make an impact. After all, the first professional operatic performances in English were given in a room in the private Smithfield home of the impresario Sir William Davenant, not in a dedicated opera space. In pioneering this new art form in London, Davenant didn't worry about a lack of big-budget pyrotechnics or space for large numbers of musicians – he had better things to worry about: that he was allowed to produce work at all in the face of the puritan ban on the stage in the 1650s was already a miracle – and neither should we today.
Others have experimented with opera on the fringe before: we're not the first. But we are the first to do it full-time. And the King's Head Theatre in Islington is the ideal launchpad for such an adventure. Opened by Dan Crawford 40 years ago, it has a long and venerable history of radical experimentation and chance-taking, which we now plan to continue as we bring new audiences to opera (50 per cent of audience members at our La Bohème claimed to be opera virgins) and help to develop the next generation of opera directors, composers, performers et al. Already planned for next year are new commissions by celebrated dramatist Mark Ravenhill and the young writing team of Daisy Evans and Louis D'Heudières. Will these works enter the wider repertoire after receiving their premieres at the King's Head? Who knows. But we're proud to be part of such an exciting experiment.


Adam Spreadbury-Maher | October 18, 2010
Weblink: http://www.guardian.co.uk/