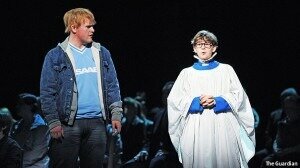 Eight years ago, Nicky Spence was a famous tenor in the making, with several discs under his belt and a busy performance schedule that included singing "Nessun Dorma", an aria from the final act of Puccini's "Turandot", and similarly gut-busting operatic hits. But at 22 he noticed that his voice was suffering. So he quit. "I saw the end of my singing life approaching," he explains. "I shouldn't have been singing 'Nessun Dorma'. I should have been singing Handel and Mozart"—composers who are known for creating roles that are lighter than those in late Italian operas.

Today lots of young singers take roles that are far too big for their voices. Agents cheer them on, eager for their clients to enter the spotlight. Casting directors increasingly hire them, keen for comely faces. And opera houses looking to keep expenses low are grateful for the cheaper talent.
But whereas a young violinist can accept a prestigious gig without reservation, a young singer has to consider his vocal cords. If used in roles that are too heavy, the vocal cords thicken, producing a less attractive sound. They can even tear, leaving the singer virtually voiceless. "I've seen so many young singers take on big roles and damaging their voices," says Stephen Costello, a 31-year-old tenor who made a splash with his Metropolitan Opera debut when he was 26. "Everybody has seen it."
This worries Fabio Luisi, the Metropolitan Opera's principal conductor. He describes an environment where everyone including agents, casting directors, record labels and even some conductors are pushing young singers towards early stardom. "The difference between now and 50 years ago is that singers couldn't travel as much then, and directors weren't as fixated on appearance," he notes. "Of course I understand why they want beautiful singers, but the nature of opera is to stimulate the fantasy."
The vocal maturity necessary for bigger roles tends to come when singers are in their late 30s and early 40s. Birgit Nilsson, a legendary soprano, remained in formidable vocal shape well into her 60s, and she continued to portray youthful heroines such as Wagner's Isolde and Verdi's Turandot when she was well into middle age. But more exacting demands for how stars look have left some opera houses reluctant to cast ageing opera stars in youthful roles.
This poses a problem not just for the singers but also for the art form, as overexertion prunes the ranks of available stars. Of course new generations of singers will always be handy to replenish this supply, but some anticipate a thinning of accomplished older voices. Casting directors such as John McMurray of the English National Opera are already struggling to find the right voices for the big roles in such late Italian warhorses as Verdi's "Aida" and "Turandot", or Puccini's "Tosca" and "La Boheme".
But while opera may be losing future Placido Domingos or Birgit Nilssons to ruined vocal cords, the singers themselves have the most to lose. So what's a young singer to do? Nadine Sierra, a 25-year-old soprano, describes being offered Mimi, the female lead in "La Boheme", two years ago. "The casting director told me, 'Trust me, I've been in this business for a long time, I know you can do it'," she recalls. While flattered, she turned down the offer. This was a hard decision, not only because of the loss of income and notoriety, but also because she knew another eager star-in-waiting would seize the role.
Mr Costello, who will sing the role of Percy in Donizetti's "Anna Bolena" at the Vienna State Opera starting on October 25th, vows never to touch his dream role, Verdi's Otello, because it is too heavy for his voice. Mr Spence, now 30 and back in vocal health, is singing a supporting role in the Met's new production of "Two Boys" in November.
Opera singers have a reputation for acting like prima donnas. But if they hope to have long careers they may have to become more prima-donna-like still: they will have to learn to say no.
E.H.B. (The Economist) / October 21, 2013

Weblink : http://www.economist.com/
Photo credit : http://www.economist.com/