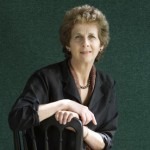 A female conductor is still seen as such a novelty in the UK, yet one of our most internationally acclaimed maestros is a woman. Julia Jones rightly upbraided me when I interviewed her for tomorrow's Music Matters on Radio 3. "It's only in England that I get asked questions like this", she said, whereas in Portugal, or Vienna, or Berlin, or even America, it's not an issue.


Haven't heard of her? You should have. Julia Jones is one of Britain's most successful conductors – it's just that she's made her entire career in the continent and the rest of the world rather than in the UK. Born in Droitwich, brought up on the Isle of Man, and schooled at Chetham's specialist music school, the Guildhall and the National Opera Studio, Jones left Britain for a job as a repetiteur at the opera house in Cologne. And she hasn't looked back. She worked her way through the German system, from rehearsal pianist to assistant conductor, eventually running her own opera house in Ulm (the same place that Herbert von Karajan started his career).
She's now chief conductor of the San Carlo Opera House in Lisbon and its symphony orchestra, she frequently works at the Vienna State Opera, conducting the musicians who play as the Vienna Philharmonic when they give orchestral concerts, and she's a regular guest in Berlin, in Hamburg, and all over Italy. Now 48, Jones is making her debut at Covent Garden, with a revival of Jonathan Miller's production of Mozart's Cosi fan Tutte.
You can probably guess the line of questioning that had been annoying her in interviews she's been giving to the British press: her gender, and the sexual politics she has inadvertently had to face in her career, like, for example, when the Italians made a fuss of her being the first woman to conduct Wagner there. (Mozart or Rossini would not have been a story, but the perceived Teutonic machismo of Wagner was another matter.)
The reasons that conductors' gender is still an issue for us are twofold: there are still too few female conductors in charge of orchestras (apart from Jane Glover at the Royal Academy of Music, there are no women currently in posts high up the orchestral or operatic hierarchy anywhere in Britain), and the methods and opportunities for training conductors here are pitifully patchy. That lack of opportunity allows the cliched image of the male, tousle-haired maestro to perpetuate itself unchecked, and means, according to Jones, that there are proportionally fewer female conducting students in the UK than in the US, Portugal or China.
In Lisbon, half of the six conducting jobs in the city are taken by women – which makes Jones remarkably unremarkable over there, and allows her to concentrate on musical questions rather than what should be outdated sexual politics. That ratio is also, of course, the ideal gender balance. Despite the work of Glover with the London Mozart Players, Sian Edwards at English National Opera, and American conductor Marin Alsop at the Bournemouth Symphony Orchestra over the past couple of decades, we're still an embarrassingly long way off that in the UK.

Tom Service | January 22, 2010
Weblink: www.guardian.co.uk/music/tomserviceblog/2010/jan/22/women-conductors-julia-jones