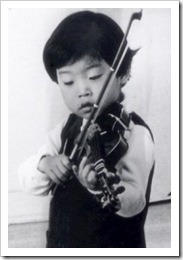 Noa Kageyama is in the business of bulletproofing, but his work does not involve Kevlar vests or polycarbonate. The performance psychologist runs a consultancy, ProMind Coaching, whose clients include Olympic athletes and CEOs. His mentor and business partner, Don Greene, is a former champion diver and Green Beret, whose specialties including teaching principles of sports psychology to SWAT team members. But the battlefield Mr. Kageyama is most interested in is the music world. On his blog, The Bulletproof Musician, he takes principles developed to toughen up tennis pros and uses them to help musicians cope with the intense pressure of solo performance. Last month, he joined the faculty of the Juilliard School.

Performance psychologists are invited into music departments nation-wide, as educators recognize the need to prepare musicians for the competitive, high-stakes world of classical music. In the past, performance anxiety was rarely discussed; if anything, it was seen as a Darwinian way of separating those fit for a solo career from those doomed to teach. Today, performance psychologists advertise their services as coaches, not shrinks, providing musicians the same concrete tools and drills offered athletes and CEOs.
Mr. Kageyama is himself an accomplished violinist. He remembers his mother arranging lessons for him with master teacher Shinichi Suzuki when he was still in kindergarten in his native Japan. Later, he boarded weekly flights from Columbus, Ohio, to New York to attend precollege lessons at Juilliard. He knows first-hand how hard musicians work in the practice room—and how that alone does not prepare for the stress of solo performance.
"Given the sacrifice we put in, it's intensely frustrating to get up on stage and not have what you know to be capable of come out," he says. "And it's even worse when you don't know why." His job, he says, is not so much focused on anxiety as on "taking people who are already great and helping them be great under pressure."
Andrea Levine contacted Mr. Kageyama in late 2009 after she had performed poorly in recent auditions. The Louisville Orchestra in Kentucky, where Ms. Levine is the principal clarinetist, was in financial straits, its future uncertain. "Each audition was like a do-or-die situation," she says. Over a series of Skype conferences and phone consultations with Mr. Kageyama, she developed a program of centering and confidence-building exercises. In her next set of auditions, she reached the final round each time. One led to her current one-year stint with the Colorado Symphony during a leave of absence from the Louisville Orchestra.
When Rebecca Fischer, the first violinist of the Chiara Quartet, began to study music, she often underperformed on stage. It wasn't a topic she could easily discuss, she says. "It carried the stigma of 'oh, you can't just get up there and play your best? Haven't you practiced enough?'"
In 1999 she worked with Mr. Greene, who at the time was teaching a seminar at Juilliard. She learned drills she could draw on to prepare not only mentally but physically for a recital or audition. Through visualization techniques and physical exercise—running up and down stairs, for example—she built up her ability to focus even with a pounding heart.
"Most crippling can be the thoughts," she says. "We have all these highly technical left-brain things going on inside our heads, critical comments, which seem to increase in a high-pressure situation."
Now in the University of Nebraska-Lincoln's music department, she incorporates performance preparation in her work with students. "Instead of thinking 'don't rush' or 'make sure the bow doesn't bounce,' I have them think words like 'brilliant' that capture the music they are playing. It's amazing how powerful that is."
At the University of Oklahoma, Bill Moore takes a different approach. The performance psychologist had been working with the college football team for a number of years when, in 2000, the music department invited him in. This year, he published a series of music-performance books called "Playing Your Best When it Counts." Unlike most of his colleagues, he makes a distinction between athletes and musicians. While the first encounter regular opportunities to perform in a season, he says musicians typically spend more than 90% of their time practicing. Solo recitals are rare; for some instruments, like percussion or double bass, they might only come up in the final year of school.
"Music schools are very much practice-based," Mr. Moore says. "The goal is not to play; the goal is to be correct. There's a lot of individual instruction, a lot of solo practice time during which you self-monitor, analyze and correct mistakes. Yes, that's how you get better. But if you do any of these in a performance, you're dead."
Fear, he says, is not the problem: If you want to do well, you will probably experience fear. His response is to build up the mental skills needed in a performance, like courage, trust and a focus on higher-order qualities: artistry and expression for musicians, strategy for athletes. Much of this involves the kind of mental training offered by Messrs. Kageyama and Greene. In addition, Mr. Moore coaxes teachers and musicians to incorporate performancelike play time into each practice session and lesson.
For teachers, he says, the hardest part is learning to bite their tongues when their instinct is to correct. Jane Magrath, head of the piano faculty at the University of Oklahoma, says some pianists were initially hesitant. "They were worried it would interfere with or destroy their previous structure. But Bill's approach really works."
"When people think of psychology, they often think someone's going to come in and talk about their problems," Mr. Moore says. "But it's a concrete, nuts-and-bolts, drill-based coaching of skills. Once people get that, they want it in their department."


Corinna Da Fonseca-Wollheim (The Wall Street Journal) / September 29, 2011


Weblink : http://online.wsj.com/
Photo credit : http://www.bulletproofmusician.com/