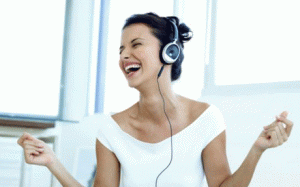 You're at a speed-dating night. Seated opposite an extremely attractive babe. He looks like James Dean/she looks like Marilyn Monroe. Or James Dean Bradfield/Marilyn Manson, if that's your kind of thing. She's perfect. He's gorgeous. You're nervous and your heart's thumping like a kangaroo on Ritalin. But this is no ordinary date night. Instead of chatting, or ticking boxes, you have to do one one thing to impress: pick the right song.

A speed-dating night with a musical theme launches this Thursday evening in London. The skinny? You bring your MP3 player and headphones (no sharing) and pick a song for the hopeful romantic opposite. "Find your match in music, mates or dates," they say. Whoosh!
It's a tricky prospect. One song. Three minutes. What on earth would you pick? Would you go into the room with one killer tune (Adamski anyone?) or opt for a boutique approach, tailor-making your playlist to what you can observe? Spot a guy wearing a Tim Hecker t-shirt? Probably don't play him Michelle McManus. Or a girl with a Karen Millen suit and kitten heels? Pass on the terrorcore.
I've had some varied suggestions already: Gertch by Chas & Dave, Pyramid Song by Radiohead, Love Will Tear Us Apart by Joy Division, Eddie & Ernie's Bullets Don't Have Eyes, OutKast's SpottieOttieDopalicious and Sympathy for The Devil by the Rolling Stones. My friend, a classical violinist, would choose Paganini's Cantabile. James Blunt seems to have suggested his own hit song You're Beautiful.
Would you play something funny such as Informer's Snow or Mr Blobby? Or something outwardly sleazy like D'Angelo or Lil' Kim? And what would you do while they're listening? Perfect the coolest drumming-on-the-table moves? Mouth the words? Air guitar?
It sounds like fertile ground for the music bore (I'd know, I am one) and intense social anxiety, yet it's not as ridiculous as you'd think. Darwin believed music played a role in sexual selection, as Daniel Levitin points out in his book Your Brain On Music. Darwin wrote:
I conclude that music notes and rhythm were first acquired by the male or female progenitors of mankind for the sake of charming the opposite sex. Thus musical tones became firmly associated with some of the strongest passions an animal is capable of feeling and are consequently used instinctively.
Saucy stuff. Anyway, what would you pick to charm?


Lucy Jones (The Telegraph) / February 7, 2012


Weblink : http://blogs.telegraph.co.uk/
Photo credit : http://blogs.telegraph.co.uk/