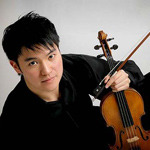 From the time he picked up a toy guitar and a chopstick, Ray Chen was destined to become an 'ear opener', writes Catherine Keenan.


Not many violinists find themselves, aged 21, choosing between two Stradivariuses.
It happened to Ray Chen after he won two prestigious competitions: the Young Concert Artists International Auditions, held by his famed school, The Curtis Institute of Music in Philadelphia, in January 2009;
and the Queen Elizabeth Competition, last May.
Advertisement: Story continues below
A sponsor saw Chen, raised in Brisbane, play at the first competition and decided to loan him the Macmillan Strad, from 1721. Winning the second automatically gave him a loan of the Huggins Strad, from 1708, during the violin makers' "golden period".
Chen decided, only a little reluctantly, that "nobody needs two Strads" and gave one back. It took months to decide which. "If I was going to return one and be nice, I was going to keep the better one," he says. He eventually gave back the Huggins, though not before using it to record his debut album, Virtuoso, released last month through Sony.
In the past few years Chen has developed from a talented student to a performer in demand around the world. He will traverse the globe this year to debut with orchestras. He played with the San Francisco Symphony in January and has appearances with the Philharmonia La Scala, Toronto Symphony Orchestra and the Munich Philharmonic to come. He plays four concerts with the Sydney Symphony, with his debut on Thursday.
Chen was born in Taiwan, but came to Australia when he was six months old. At three he was given a toy guitar and strummed it in the usual way. "Then one day I propped it underneath my chin, and grabbed a chopstick and pretended to play. I'm sure I saw it on TV somewhere."
His parents decided to give him a violin for his fourth birthday.
"And I got really, really into it." He studied the Suzuki method, which he strongly endorses. "It really encourages you to enjoy the music. I had a lot of fun with it."
When he was eight he represented Australia in the opening ceremony of the Winter Olympics in Nagano, Japan. "I remember thinking, 'Wow, I really want to do this' – perform on the violin – 'for the rest of my life."'
Still, Chen insists his childhood was "normal". Many of the violinists he knows were home-schooled or went to music schools so they could focus completely on their instrument. Chen went to Brisbane Grammar School, tried hard to get A's, played tennis and soccer, and swam. He did not take the violin too seriously until, at 13, he won the National Youth Concerto Competition in Brisbane. That is when he started to cut out the sport and curtail his free time.
At the end of year 10 he took a chance and pulled out of school altogether so he could devote himself to practising for an audition at the Curtis Institute. He got in, and arrived alone at 16, daunted by the challenges of living independently, and the immense talent on display.
"Coming here was – I was about to say a real eye-opener, but I suppose it was an ear-opener. You see the level and you feel, wow, I have so much that I need to catch up on."
He felt like he was progressing slowly for 2½ years. He says he is lucky his biography does not list the competitions he did not win. But then he did win, taking out the Yehudi Menuhin Competition in 2008. By the time he had won the Queen Elizabeth the following year, competitions were unnecessary. He just performed.
After one of his concerts in late 2009 The Washington Post said: "Ray Chen can do pretty much anything he wants on the violin." The critic Anne Midgette said his playing was notable for "its ease and beauty".
Chen still lives in Philadelphia. "It's easy to get to the airport," he says. He loves performing as much as he did when he was an awe-struck eight-year-old in Nagano. Even as a child, he was something of a show-off, he says.
"I'm very excited," he says of the coming year. "It's a lot of debuts."


Catherine Keenan | February 7, 2011


Weblink: http://www.theage.com.au/