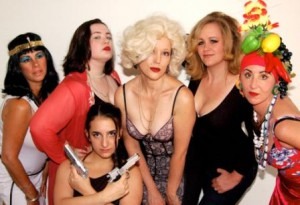 Live classical music is everywhere: chamber music at the local pub; huge, avant-garde orchestral pieces in armories and abandoned factories; symphonic and choral flash mobs in train stations and food courts.

But here's a new one: opera in a strip club.
"If you hate opera, you'll love this," reads the promotion for Emotionworks. "Verdi will roll in his grave."
Director Julie Edwardson, a former roster member at Opera Australia, is staging La Traviata at The Men's Gallery–what The Age identifies as "a table dancing venue"–in Melbourne.
Edwardson has a passion, she says, for "'opera at the lowest level,'' and so has cut the pieces down to an hour ("no boring bits") and is staging them in pubs and "lawn bowling clubs." The strip joint is a new wrinkle.
She even uses erotic dancers to perform (clothed) alongside the singers. She calls her projects "street theatre cabaret-style productions."
"The space is fantastic in the upstairs showroom at Men's Gallery with a central catwalk, platform stage and poles," she tells The Age. "The showroom is quite old and could almost be Victorian with its wood-carved bars and chandeliers. It feels like a Moulin Rouge.
"We don't want to intimidate people so we've been careful to hold the shows outside the club's operating hours and there's no nudity or explicit sex, it's all very tame. But, of course, the bar will be open."
It's a first for the club; the owner says he is interested to "draw diverse audiences" to the venue (sound familiar?). "We're open to promoting the arts and in a sense our organisation is about theatre and entertainment because strip tease is an art."
Perhaps Salome is next on her list….
Susan Elliott (MusicalAmerica.com) / April 3, 2013

Weblink : http://www.musicalamerica.com/
Photo credit : http://www.musicalamerica.com/