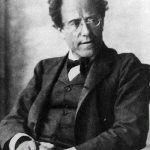 Vienna, which never accepted him as one of its own, is paying homage to Gustav Mahler. As head of the opera from 1897 to 1907, Mahler had outraged the city by denouncing its traditions as mere laziness. When he was conductor of the Vienna Philharmonic Orchestra, he updated Beethoven's scores. As a composer, he unsettled audiences with subversive symphonies of painful ambiguity.


Although everyone, from Emperor Franz-Josef down, acknowledged his success in galvanising a stagnant art, Mahler was treated as an outsider and subjected to a barrage of anti-Semitic abuse – the most vicious of its kind until the Hitler era.
When the Austrian left in 1907 to become chief conductor at the Metropolitan Opera and later at the New York Philharmonic, his farewell note was ripped off the notice board and every single one of his productions was dismantled by a malignant successor.
"Sadly, for me, I'm an incorrigible Viennese," he sighed, but the city turned its back on him then and ever after. His music was silenced under Nazism and, while conductors Bruno Walter and Leonard Bernstein brought the symphonies back into play, Vienna never honoured Mahler with statues and street names as it did for Haydn, Mozart, Schubert, Beethoven, Brahms and any number of composers called Strauss.
But a city that markets musical tradition as a tourist magnet is having to acknowledge Mahler as a modern phenomenon, the fastest-selling symphony composer in the United States, much of Europe and the Far East. Without admitting it was wrong about Mahler, Vienna in an anniversary double year – the 150th of his birth in July 1860 and the centenary of his death in May 1911 – is working hard to adjust its attitudes.
An exhibition titled Gustav Mahler and Vienna, newly opened at the Theatre Museum, goes a long way towards setting the record straight about the edgy genius and the art he renewed.
Mahler came to Vienna as a student of 15 in 1875, left after six years to work his way up the conducting hierarchy and returned at 36 as director of an imperial opera house that matched architectural grandeur with archaic habits.
Mahler in the Vienna Opera was, as the exhibition declares, Der Gesamtkuenstler – the complete artist, a composite of creative musician and chief executive officer: director of the house, principal conductor and head of stage production.
Working with Alfred Roller, a member of Gustav Klimt's Secessionist movement, Mahler gave colour and light equal weight with music and words in the staging of an opera. In Tristan and Isolde, the backdrop turned imperceptibly from yellow to purple as the day waned and the music developed. The Ring cycle was cleared of Wagner's dowdy clutter and Mozart operas were presented in lucid Italian sunlight.
To see Mahler's sets and costumes is to witness an art in revolution. Mahler, say curators Reinhold Kubik and Thomas Trabitsch, established modern standards in the performance of opera and the methods that uphold them.
A slew of foul reviews in the Viennese press is counterpointed by video testimony from a dozen leading conductors on how Mahler changed their lives. The show omits Mahler's impact on America and the activities of his adulterous wife, Alma, but the detail is telling. The shirt that Mahler wore on his deathbed was made in New York (by James McCreery & Co) and Alma's absence from funeral photographs speaks volumes.
Vienna's three orchestras – the Philharmonic, Symphony and Tonkuenstler – have scheduled copious Mahler concerts in the coming two years and further exhibitions are planned at the Opera, the Musikverein and the Arnold Schoenberg Centre.
A perceptual shift is taking place in Vienna and the responses to Mahler are no longer casually dismissive. Yet the man who wanly declared himself "three times homeless" still lacks a public monument in the city he dragged into the modern age.

Norman Lebrecht | April 6, 2010
Source: Bloomberg
Photo credits: artsjournal.com