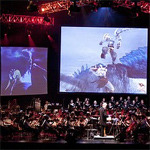 Rob Garner really, really wants a set of timpani.


Garner doesn't play the drums himself. He's a graduate student at the University of Maryland, getting a degree in library science, and his instrument is the trumpet. But Garner is also the president of the GSO, a student-founded, student-run 100-member orchestra that's been performing several times a year since 2005.
GSO, by the way, stands for Gamer Symphony Orchestra. This group is devoted exclusively to the music of video games. And timpani could really come in handy when performing some of the themes from the popular game Halo.
These days, a lot of people in the classical music world are worried that kids aren't connecting with orchestral music. But the music of video games is emerging as one way orchestras may actually be reaching new audiences. It's certainly proliferating. On Friday at Wolf Trap, the National Symphony Orchestra is presenting "Distant Worlds," a concert devoted to the music of the Final Fantasy video-game series, which marks its 20th anniversary this year. On Aug. 7, WETA will broadcast "Video Games Live," another video-game concert that has come to a number of American orchestras (including the NSO) in recent years; the show will come to Strathmore in February.
Video games have evolved rapidly since the release of Pong, the simple tennis game with its hypnotic blips of sound, in 1972. Today, games feature cinematic animation and story lines, and scores are recorded in a studio with full orchestra. It's a long way from "the dreary three electronic sounds" that Nobuo Uematsu, the composer of most of the Final Fantasy music, had at his disposal 20 years ago. "Nowadays," he says through a translator in an e-mail exchange, "video game became just like a movie." It's a movie-size business, too. The Entertainment Software Association estimated 2008 sales at nearly $12 billion.
Video-game concerts are becoming big business as well. The first ones were held in Japan, where many games were originally produced; but in recent years, they've proliferated in the United States and Europe. "Distant Worlds" originated in 2007; "Play! A Video Game Symphony" started touring in 2006; and "Video Games Live," which aspires to be a kind of Cirque du Soleil of the field, started at the Hollywood Bowl in 2005.
These concerts vary from straight orchestral performances ("Distant Worlds") to a more razzle-dazzle, Vegas-style entertainment experience ("Video Games Live"). They include vocal and instrumental soloists, full choruses and, of course, video clips.
They also include a symphony orchestra. It's striking that video games, the ultimate pop medium, continue to rely on orchestral sound. "It brings a touch of class to what we do," says Tommy Tallarico, the creator of "Video Games Live." These shows, therefore, are presented in tandem with local orchestras — sometimes very good local orchestras. "Distant Worlds" will have been performed with the San Francisco Symphony and the Houston Symphony by the time it gets to the NSO on the show's current tour.
For many in the audience, it may be the first exposure to a live orchestral performance. Tallarico, who has Donny Osmond-like clean-cut good looks and a relentlessly upbeat, on-message delivery to match, often mentions getting letters from parents whose children want to take up instruments after attending "Video Games Live."
Tallarico's own introduction to classical music followed a similar path. After growing up listening to rock music, including his cousin Steven Tyler of Aerosmith, he went to see "Star Wars" at age 10. "It was the first time I'd listened to orchestral music," Tallarico says. "It hit me: Wow, what is that? I started reading about this guy named John Williams. He said Mozart and Beethoven were influential. When I heard Beethoven, I was 11 years old, and it changed my whole life. My goal changed from wanting to be a rock star to wanting to be a composer." He adds, "Here we are, 30 years later, and video games are having the same effect on a whole generation."
It's a rosy vision. Classical crossover has never been very successful at winning fans for straight orchestra concerts. One reason may be that in a lot of this music, composers use the orchestra to get a certain kind of sound. Though more and more classically trained composers are turning to video-game scoring, a lot of game composers, including Uematsu and Tallarico, are self-taught and — like commercial composers in every field — rely heavily on the services of orchestrators.
Nonetheless, these concerts offer orchestras a shot at a new, excited audience, aged about 17 to 35, ready to be passionate about the music. The atmosphere at concerts is a hybrid of pop and classical tradition, says Arnie Roth, the "Distant Worlds" conductor. "When the piece is over there's great cheering and ovations," he says. "But the flip side is they're such great, attentive and respectful listeners, which is unusual during pop concerts, meaning you can hear a pin drop during the orchestral performances."
Orchestras, clearly, have lost a lot of their fear about watering down their brands. In an era when summertime fare routinely includes everything from "Sing-a-Long Sound of Music" to live performances of film soundtracks, few orchestras turn up their noses at an avid new public. Some have even participated in recordings: the Royal Stockholm Philharmonic has made a CD of "Distant Worlds."
"The whole reason we're doing [this job] is to put out this live art," says Paul DeNola, a bass player with the NSO. When the orchestra plays a symphony and the audience is "snoozing, that's not as fun. With the video-game music," he says, "the crowd is totally loving it."
There's one significant difference between gamers and other crossover crowds. Video games are participatory. Aficionados of the games, who spend hours hearing the music as they play, are used to being able to affect what they're hearing; a soundtrack may alter depending on a player's action. "Sometimes the player is like the conductor," Tallarico says. "They're controlling the performance."
So while many audiences are passive listeners, for gamers, it may be only natural to start making the music themselves. In 2005, Michelle Eng, a student at the University of Maryland who was playing viola in an orchestra of non-music-majors, "had a kind of epiphany," says Garner, one of the GSO's founding members. She thought, "Hey, I really like video games and I like video-game music; there should be an orchestra that does this." At the end of one rehearsal, she stood up and asked if anybody else was interested in her idea; she got six players, and the GSO was born.
Today, the GSO's size is limited only by the number of chairs it can fit into whatever rehearsal space it manages to find, and its instrumentation only by whatever instruments its members actually own. The orchestra's members include cellists, violinists and flutists from across the academic spectrum who have taken up instruments that some of them hadn't touched since elementary school, to make the music they love. They're connecting with audiences, too. The GSO's last couple of performances have filled the Clarice Smith Center's 1,100-seat Dekelboum Hall.
Like most video-game shows — even some professional ones — the group does all of its own arrangements. They aren't alone. Students at Magruder High School in Montgomery County have also started a student-run gamer orchestra. And in Boston, the Video Games Orchestra was created in 2008 by students and alumni of the Berklee College of Music and other Boston-area conservatories and colleges.
The VGO is a semiprofessional group; it's issuing its first CD this summer. Maryland's GSO has no such aspirations. "Frankly, we're amateurs," Garner says. "You won't come to a GSO concert and not hear a problem. But all the people who are playing this music are very passionate about it. You get to feed off the energy."
In speaking about the GSO, Garner talks a lot about community, and about teaching people to love music through the music of video games. It takes a moment to realize that he isn't talking about audiences. He's talking about the members of the orchestra. The GSO even has its own social director, who arranges activities and outings for the group. Members of the GSO attended "Video Games Live" when the NSO presented it a couple of years ago.
But the GSO won't be attending "Distant Worlds." The NSO may be reaching out to young audiences with these concerts, but it hasn't yet gotten hip enough to find out where else that young audience may want to go. July 30 happens to be the first night of the Otakon convention in Baltimore, a celebration of Asian popular culture that draws gamers from around the country. So while Final Fantasy fans descend on Wolf Trap, many GSO members, a little wistfully, will be in Baltimore, instead.


Related video:
Play! A videogame symphony – Super Mario Brothers

Anne Midgette | July 28, 2010
Weblink: http://www.washingtonpost.com/