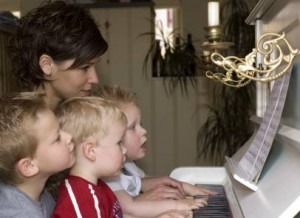 DO all children have the ability to be musical?

All I wanted to play was The House of the Rising Sun on guitar while wearing cheesecloth and singing in a folk-style voice (think Joan Baez). I was 11 years old and the guitar was going to play a crucial role in my emerging adolescent image.
Instead I was forced to learn Spanish and classical guitar as my teacher thought chords were for the uncultured. Consequently to this day I retain no memory of my guitar-playing period and still harbour a simmering anger towards my inflexible music teacher.
In the "old days" (i.e. when I was a child) the focus, it seemed, was on formal and turgid cadet-style music training, often in classical music. Kids everywhere were dragged kicking and screaming to lessons run by irritable – and, in my case, insane – harridans hell-bent on ensuring kids never looked at a sheet of music again.
Today that's all changed with littlies introduced to music via The Wiggles and Hi-5 before quickly graduating to having their own iPods filled with Taylor Swift and Justin Bieber tunes.
Music is everywhere – except in many of our primary schools, but that's a whole separate story – but how do parents unlock their progeny's own musical talent or passion within and help their kids be exposed to the wide and exciting variety of music out there?
Every child can be a prodigy
A love of music is inherent, says Amanda Niland, coordinator of Macquarie University's Institute of Early Childhood Music Program.
"We can start to love music before we're born," she says. "Humans are hard-wired to be able to process music. A musical instinct is in all of us."
"Everyone has the ability to be musical and love music. It's highly likely that those people who say they're not talented musically just weren't exposed to music early enough."
And the best music to expose kids too? The parental singing voice, says Amanda.
"Singing to children gives them an ear for music from an early age," she says. "Hearing their mum sing, for example, relaxes them, entertains them and makes them happy."
Singing traditional lullabies and nursery rhymes to babies and infants has been described as "an essential precursor to later educational success and emotional wellbeing" by a leading UK neuropsychologist.
In her book The Genius of Natural Childhood, Sally Goddard Blythe writes: "Song is a special type of speech. Lullabies, songs and rhymes of every culture carry the 'signature' melodies and inflections of a mother tongue, preparing a child's ear, voice and brain for language."
More formal approaches to music
When the voice gets hoarse from all the brain-developing singing, Niland advises parents to expose their children to a wide variety of musical styles and approaches, taking them to live performances, talking to them about instruments and generally including music in their world.
"Research has shown that musical tastes, and a love of music generally, are formed early so children are never too young to be introduced to music," she says.
As for learning an instrument, Niland is a big supporter of the Suzuki approach in which children learn by listening and playing by ear, and understandably she believes every child should have the opportunity to learn an instrument.
The perfect age to start is six or seven years, she says, "but it's never too late".


Fiona Baker (News Limited newspaper) / July 31, 2011


Weblink : http://www.news.com.au/
Photo credit : http://babyandmusic.blogspot.com