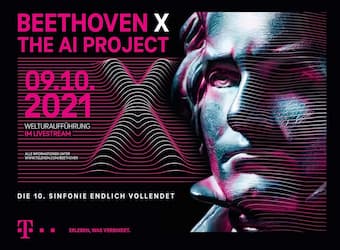 A new project to restore Beethoven's incomplete symphony borders on pathological necromancy

The attempt to manufacture a tenth Beethoven symphony by means of Artificial Intelligence has proved about as intelligent as cloning Albert Einstein out of paper from his wastebasket.
The outcome, 21 minutes long, is performed on YouTube by the Beethoven Orchestra of Bonn. It welds fragments of a discarded project onto bits of other symphonies in a manner so uninspiring that it reduces Beethoven to the level of a Hummel. The work's opening, a student-essay paraphrase of the fifth symphony, is all you need to hear. Full story.
Norman Lebrecht (The Critic) / February, 2022
Weblink : thecritic.co.uk
Photo credit : thecritic.co.uk