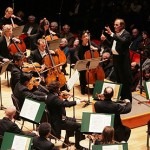 I once spent a year in Rochester, N.Y., where seven months are committed to snow. Understandably, city leaders paid someone somewhere for a marketing slogan to get people to visit. The winner: "I'd rather be in Rochester – It's got it."


Let me assure you that, in winter, you'd rather be anywhere but Rochester, and while the city offers much, it isn't it.
This city once utilized the gem "Philadelphia is better than Philadelphians say it is." True, but why rub it in?
These flummoxing slogans of the past returned as I mulled the Philadelphia Orchestra's new marketing campaign: "Unexpect yourself."
Unexpect? The phrase – unnatural, forced, and heretofore unused in the English language – suggests something confined to boudoirs or bathrooms.
Expectorate yourself comes to mind, the slogan suggestive of a spit take.
Marketing is money and hope, a way of reimagining what is, in the hope of obtaining more. And these are hard times for orchestras.
In Philadelphia, finances are dire, and attendance has plummeted while the search continues for a stellar permanent music director, someone like the L.A. Philharmonic's 29-year-old Venezuelan dynamo, Gustavo Dudamel, to create excitement and drive subscription sales. So the organization needs buzz – but not confusion.
"To stay relevant, you must embrace new ideas and new things," reads the copy about the 110-year-old orchestra at unexpectyourself.com. "You need a spark – a new place to visit. There is one place that will always remain timeless. . . . One of the most unexpected experiences in Philadelphia is located in Center City just steps from Broad Street and a world away from the ordinary – The Philadelphia Orchestra."
There's little mention of music.
Last summer, the orchestra hired digital marketing firm Annodyne Inc. of Blue Bell to increase single-ticket sales. "People think we're this monolithic orchestra where everyone dresses up and hears Beethoven's Ninth every week. This campaign is about what you might not expect. We wanted to attract a broad range," says orchestra spokeswoman Katherine Blodgett.
"What we were able to identify was this fringe audience that is very culturally active, culturally engaged, but the orchestra was not reaching through traditional mediums," says Annodyne founder and chief executive officer Anthony Campisi.
What does "unexpect yourself" mean? "To think differently and get out of the rut of the day-to-day. Instead of during the weekend saying, 'Let's go to the mall, let's go to the movies,' we want people to think, 'Let's go to the orchestra,' " Campisi says. "We learned after they hired us how well regarded the orchestra is on a global scale, how big the impact they have overseas. It's this gem right in everyone's backyard."
So this is a variation on the old Philadelphia is better than we think it is. But, really, even Philadelphians know how great the Philadelphia Orchestra is.
On the unexpect site, there are images of happy, toothy people in convertibles, with a rose. There's streaming audio of "the orchestra's unexpected sounds," snippets of Beethoven's Fifth, Brahms' Fourth, the very music you would expect even with only a K-tel level of knowledge.
Campaign tag lines include "We don't smash instruments, just expectations." And: "Odds are you'll sit next to someone who went to Woodstock."
Bad ideas abound. Two weeks ago, Apple introduced the iPad, launching a thousand parodies and jokes among women for whom pad and flow have set connotations. Again, a restroom comes to mind. Showing that corporate minds can think alike – that is, poorly – Comcast is rebranding its TV, Internet, and phone services as Xfinity, disarmingly similar to Procter & Gamble's Always Infinity sanitary napkins.
Is it that time of the month?
The orchestra's "unexpect yourself" campaign is being promoted through Pandora music phone applications. Ads have been placed on other Web sites. Billboards and bus shelters are coming soon, all that bad English to sell superior sound, the dumbing down of music that elevates the soul.
Single-ticket sales will bring people in once, but there's no guarantee they'll come again, particularly if music isn't their thing, Brahms' Fourth represents an "unexpected" sound, and the orchestra is viewed as an alternative to the mall.
The Philadelphia Orchestra is the very opposite of the unexpected, representing instead everything that is solid and proven, beautiful and renowned. Unlike Rochester, it's got it.
To attract people to Verizon Hall, the orchestra needs to generate palpable excitement while delivering quality. The last part, the organization has down. Now, land a vibrant, substantial, and young – that is, south of 60 – music director for the long haul, create exhilarating programming, and launch fresh events attracting people who like music to come listen, not once, but again and again.

Karen Heller | February 7, 2010
Weblink: www.philly.com/inquirer/world_us/83741557.html
Photo credits: instantencore.com