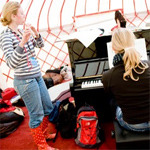 At first glance it looks like a rock festival. Hardy campers in wellies and odd hats traipse from event to event determined to have a good time. There's a double decker cider bus and food stalls are selling curries and burgers. And, of course, there's lots and lots of mud.


But it sounds nothing like Glastonbury or the Big Chill. A soprano is belting out an aria from a soggy yurt while further on a choir is being coaxed through a tricky bit of Mozart in a wind-battered marquee. Over on the main stage a full orchestra is tuning up.
This is Serenata, billed as the UK's first classical music festival. For three days thousands of Radio 3 and Classic FM enthusiasts are giving up the comfort of their living rooms and braving the elements on a three-acre site outside the village of Kimmeridge on the coast of Dorset.
The reward for their robustness will be performances from the likes of Katherine Jenkins, Russell Watson and dozens of other musicians from the well-known to the downright obscure.
"It's just fantastic, isn't it?" said 17-year-old Bryony Purdue, who surrendered a ticket for the Reading Festival, this weekend's rock and pop mega fest, in favour of the rather slower-paced Serenata.
"I was a bit upset when I found out that this clashed with Reading but this was always going to be the one for me. It's something new, different. A few people have been moaning about the mud but they're the city types. I'm a country girl. I like mud."
The festival is the brainchild of Lesley Malpas, an entrepreneur and talent coach who realised that though outdoor classical music concerts are becoming ever more popular, there was no festival for enthusiasts prepared to risk a mudbath to get to see some of their favourite performers in one place.
"This is the first time a rock festival format has been built around a classical programme," said Malpas. "We have multiple stages, a big children's contest and camping. It's a simple concept but it's taken off."
Malpas is hoping that a total of around 8,000 people will attend the event at the Smedmore estate. The programme – a mix of "core classical" music and "crossover" artists, together with a talent competition for young musicians and students – is intended to attract a diverse audience. "We want to create a musical family," said Malpas.
One musical family to be found trying to set up in the main camping field on day one of the festival today lunchtime were Jane Thrift's lot – Max and Joe, four and one, and partner Damian. It took three trips to ferry family and gear through the mud to their spot but they remained unbowed.
The family are veterans of rock festivals such as the Green Man in south Wales. "Max loves music," said Jane Thrift. "We're always dancing to classical music at home and thought it would be good for the children to see the instruments being played and making that fantastic noise.
For them music is music – it doesn't matter whether it's rock or classical."
Their neighbours, Amy Perry and Martin Bickerton, students at the Royal Northern College of Music in Manchester, had arrived a day early and endured a tough night for their pains. "The tent collapsed in the wind at 3am and we had to get out and put it back up," said Bickerton.
They were more concerned with saving their guitars than their skins. "We all survived," said Bickerton. He still thinks the festival a great idea. "It's a great way of getting more people into classical music."
Not everyone was having to do battle with the elements to keep a dry roof over their heads. As so often at festivals now, campers were able to shell out up to £1,400 for berths at a luxury "boutique camp".
The entrance to this exclusive area is lined with topiary (and guarded by polite but firm former Ghurkha soldiers). The boutique tents feature double beds with organic cotton sheets and Venetian glass dressing tables.
No mud here – the floors are covered in seagrass carpet and wool rugs. A butler caters for every need and even the toilet block and showers smell nice. If it all gets too much there is as much wine on offer as the boutique campers can drink.
Almost all of the top end tents had been sold. "VIPs" including bankers and one "titled couple" are expected. Others have decided to treat themselves to a luxury trip to Serenata rather than taking a holiday abroad.
Some of the traders who are used to the rock festival vibe looked as if they were suffering a bit of a culture shock. Tilly Temperley and her staff at the Somerset Cider Bus were not over-run by lunchtime despite offering a tempting "orchard mist" cocktail – cider brandy, apple juice, lemonade, mint, raspberries. "We came because it's something new," said Temperley. "But it's been quiet so far."
Indigo Boo, purveyor of interesting, offbeat clothes, was upset when her van became stuck in the mud. "They don't seem to have thought that it might rain here," she said.
An art fair that was due to feature pieces by Damien Hirst, Terry Frost and Peter Blake fell victim to the weather. It was judged too damp even to get the works out of the van and they were taken away.
But this evening the mist had cleared and stunning views across to Portland appeared. The first big name performers, the vocal quartet Blake and clarinet player Emma Johnson, arrived and classical music's answer to Glastonbury kicked off in earnest.


Steven Morris | August 26, 2010
Weblink: http://www.guardian.co.uk/