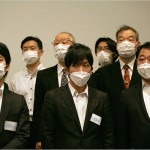 Life in Tokyo, as everywhere else in the world, is annoying and unfair. The good men are all married. Co-workers clip their fingernails at their desks. Laundry comes back from the cleaners still dirty. Society is too competitive. It is impossible to get enough sleep.


Recently a group of about 100 Tokyo residents put their complaints into a pile and a composer, Okuchi Shunsuke, turned them into a song. About 80 of the complainers (accompanied by an accordion, a bass cello and a tambourine) then performed the composition at various sites around the city, becoming the latest example of what has become known as a complaints choir.
The idea started in Finland, where there is a word for people who complain simultaneously, valituskuoro, which translates as complaints choir. About six years ago Oliver Kochta-Kalleinen and his wife, Tellervo Kalleinen, both visual artists living in Helsinki, began discussing the possibility of turning this metaphorical concept into something quite literal. People spend so much energy complaining, they reasoned, so why not harness all that energy into something positive?
In 2005, with help from arts-related organizations in England and Finland, the two organized their first complaints choir, in Birmingham, England.
The Tokyo choir, which performed last month, is the eighth that the couple have worked with. But others have formed choirs in other cities, and, Mr. Kochta-Kalleinen said, more than 60 performances have occurred worldwide — from Melbourne to Singapore to Philadelphia to Florence. People of differing ages and backgrounds are encouraged to participate. Singing experience is not required.
"If you demand a certain amount of singing skills it would exclude a lot of people," Mr. Kochta-Kalleinen said. "Anyone who has a complaint should be able to take part."
In all of the choirs, members try to keep aggrieved looks on their faces as they air their complaints. But then this front tends to give way to ill-disguised and even undisguised glee.
Mami Kataoka, chief curator of the Mori Art Museum in Tokyo, said she asked the Kalleinens to help organize a complaints choir because she saw it as a unique form of participatory art in which choir members could co-produce a work of art along with a composer.
At the start of the performance last month, many choir members were wearing surgical masks, which are common in Tokyo these days because of swine flu (another thing, perhaps, to complain about). They started by simply humming to the music, then took off their masks and started singing.
The process by which the initial complaints were winnowed into a manageable song was democratic, Ms. Kataoka said, with the final version an interesting balance of issues covering public transportation, personal appearance, work, love, society and the future.
Videos of choirs around the world show that while some complaints are universal (lack of sex appears to be a problem everywhere), others are colored by the particulars of a culture.
In Tokyo complaints about work were more common than in other cities, Mr. Kochta-Kalleinen said. ("I cannot say no to work on holidays." "My boss made his mistakes mine." "I am scared every three months because I'm a three-month contract worker.")
In Helsinki mobile-phone complaints were high on the list. ("The battery on my mobile is always going flat." "Ring tones are all irritating." "My friend likes his mobile phone more than he likes me.")
In Chicago complaints about the transit system were abundant.
And in St. Petersburg, Russia, the complaints were more reflective of "deep existential trauma" and unfulfilled love, Mr. Kochta-Kalleinen said. ("Why are we always dissatisfied with something?" "Why do we keep loving when love is so painful?")
Regardless of the complaint and where it is sung, being able to sing it while standing alongside others is apparently often cathartic.
Emi Sato is a single graphic designer in her 40s (complaints: high rent and lack of good husband material) who participated in the Tokyo choir. She said that she had not sung in a chorus in 25 years and that she was amazed at what the choir was able to achieve after about four rehearsals. She added that she enjoyed being part of a concentration of energy — by the composer, musicians, museum staff, technical staff and others — that achieved a single artistic purpose.
Frank Mauceri, an owner of a record company called Smog Veil in Chicago, helped plan and was a member of a complaints choir there two years ago. He also helped make a documentary on complaints choirs that is now on the festival circuit.
Mr. Mauceri, a self-described loudmouth and curmudgeon, said singing about his complaints somehow made him feel better. The Kalleinens "took a simple act and made it transformative," he said.
But the Tokyo choir is the last one that Mr. Kochta-Kalleinen and his wife plan to assist directly. "I think we have listened to enough complaints," he said wearily.
But they want the choirs to continue, and on their Web site, is a nine-step process for forming a choir, which includes inviting people to complain, finding the right composer, planning a performance ("spontaneous" unpublicized public performances at places like train stations are highly encouraged) and compiling a video. They also intend to be a resource for people who want to start their own choirs, and then to post videos of their performances.
Evan Solot helped to create a complaint choir in Philadelphia last year by following the nine-step process on the Web site. He is chairman of the Composition Department at the University of the Arts and has also "mastered the fine art of whining," he said.
Assisted by a group called First Person Arts, Mr. Solot gathered a diverse group of complainers and set their grievances to music in the tradition of the R&B-infused Philadelphia Sound.
The whole thing took him a couple of months. Of putting together the performance, he said, "We were just running with it and flying by the seat of our pants." But as the music started coming together, "it sounded good, and we were jumping out of our skin and loving it."
The end result was enthusiastic if not particularly polished, and it received plenty of startled and amused attention in places like Rittenhouse Square, as the singers belted out lines like:
Please listen carefully as our menu options have changed
Your call is very important to us
New Jersey drivers can't drive or park
I hate my job
Nobody listens to me.

Complaints Choir of Singapore

Phyllis Korkki | December 8, 2009
Weblink: www.nytimes.com/2009/12/09/arts/music/09complaint.html?_r=3&ref=arts&pagewanted=all