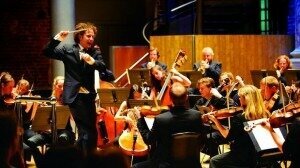 Orchestras naturally rely on audience-favorite repertory — Beethoven symphonies and Rachmaninoff piano concertos — to sell tickets. Traditionally, they've also relied on star soloists to fill concert-hall seats.

Today, fewer and fewer soloists have widespread recognition, let alone star power. In fact, you can pretty much narrow the list to five artists. Itzhak Perlman is on the downside of his career and no longer commands absolute technical security. That leaves pianist Lang Lang, cellist Yo-Yo Ma, soprano Renée Fleming and violinist Joshua Bell.
While they draw audiences, their fees, upward of $100,000 per performance, are way above most other performers'. They're what the business world calls loss leaders, products advertised below cost to lure buyers into stores. That only goes so far. Clearly, another audience hook is needed.
Outside cities such as New York and Boston, even high-profile guest conductors have little drawing power, and they're too busy in major centers to bother with the likes of Dallas. Whatever you may think of the Los Angeles Philharmonic's much-hyped Gustavo Dudamel — at least on DVDs and CDs he strikes me as only superficially exciting — he's not going to appear with the Dallas Symphony Orchestra.
Record companies no longer aggressively market classical musicians. And America no longer has even one mass-market magazine devoted to classical music, something akin to England's Gramophone and BBC Music. Half the time, our local classical-music radio station, WRR, doesn't even identify performers or compositions. Artists such as the tenor Jonas Kaufmann and the pianist András Schiff have their followings, but little widespread name recognition.
Orchestras need to find a new marketing thrust — to some extent, in fact, new identities. A good place to start is more-imaginative programming.
The old overture-concerto-symphony model, with no real relationship among the pieces, gives no identity to a concert, no marketing hook. It's just another "one from column A, one from column B" mishmash. Slapping alliterative labels for single pieces on concerts — "Marvelous Mozart," "Bombastic Beethoven," "Ravishing Ravel" — is pretty lame.
By contrast, truly thematic programs can give concerts real identity — and, if smartly done, make orchestras more a part of a city's intellectual discussion.
Consider this triptych, which the Seattle Symphony performed in May at Carnegie Hall's "Spring for Music" festival: Become Ocean, by contemporary American composer John Luther Adams; Edgard Varèse's Déserts; and Debussy's La mer.
Yes, two out of three pieces are that s-c-a-r-y modern music. Much as Dallas likes to think it's with-it, onto every new trend, classical audiences and presenters here largely consider anything newer than Rachmaninoff as welcome as fire ants. So maybe that particular program wouldn't fly.
But look at the intellectual structure of that program: two pieces about oceans framing one about deserts (both physical and metaphoric, according to the composer); two of the four elements, earth and water; two composers variously influenced by Debussy.
Let's consider some other programs that could fly here. Many of these pieces haven't been performed by the DSO within memory or ever.
"Water Music" — Mendelssohn: Calm Sea and Prosperous Voyage. Tobias Picker: Old and Lost Rivers — don't worry: it's gorgeous. Britten: Sea Interludes from Peter Grimes. And, yes, Debussy's La mer.
"At the Ballet" — Beethoven: Creatures of Prometheus Overture. Stravinsky: Apollo, another beautiful piece. Ravel: Daphnis et Chloé, complete, with chorus, with supertitles delineating the action.
"American Ballets," also with supertitles — Barber: Souvenirs. Philip Glass: Glass Pieces. Copland: Appalachian Spring.
"Pictures," with projected images — Rachmaninoff: The Isle of the Dead. Gunther Schuller: Seven Studies on Themes of Paul Klee. Musorgsky-Ravel: Pictures at an Exhibition.
"Night Music" — Mozart: Eine kleine Nachtmusik. Britten: Nocturne, an amazing piece for tenor, seven solo instruments and strings. Debussy: Nocturnes, with chorus.
"Novel Concertos" — Debussy: Danses sacrée et profanes, harp and strings. Vaughan Williams: Tuba Concerto. Michael Tippett: Concerto for double string orchestra. Poulenc: Concerto for organ, strings and timpani.
Thematic programming could also be useful in a chamber-orchestra series, which I've long wished the DSO would undertake. There's so much great repertory that we just don't hear here, and the new Dallas City Performance Hall — more intimate than the Meyerson Symphony Center, more informal —could be a great venue for it. Here are a couple of ideas:
"Serenades for Strings" — Mozart, Tchaikovsky, Elgar and Dvorák.
"Classic and Neoclassic: Mozart and Stravinsky" — Stravinsky: Circus Polka. Mozart: Piano Concerto (take your pick). Mozart: Marriage of Figaro Overture. Stravinsky: Danses concertantes.
Not every concert needs to be thematic, but a fair sprinkling of such programs could certainly enliven a Dallas Symphony season. They might even make concerts easier to sell.
And just imagine the conversations at intermissions and afterward. Anything that gets people talking about orchestra concerts is a good thing.
Scott Cantrell (The Dallas Morning News) / June 20, 2014

Weblink : http://www.dallasnews.com/
Photo credit : http://images.theage.com.au/