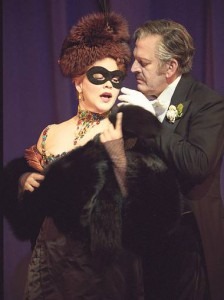 Baritone launches attack on lowbrow music industry and performers of classical 'greatest hits'

Opera, often thought of as the "highbrow" music of the cultured few, has never been immune to the populist touch. From Welsh warbler Charlotte Church to Simon Cowell's Il Divo and Popstar to Operastar favourite Joe McElderry, it is now firmly in the mainstream.
While the likes of Katherine Jenkins and Russell Watson might have brought opera to the homes of millions, one of Britain's leading opera singers says the dumbing down of the classical genre is one of the music industry's cruellest tricks.
Sir Thomas Allen, an acclaimed 67-year-old baritone celebrating four decades of singing at the Royal Opera House in London, said popular classical musicians who "have never sung in an opera" are reflective of a "lowbrow" music industry in decline. He added he could never endorse the "fake popularisation" of the genre he has worked in for so long.
"I refuse to give in to this fake popularisation and lowbrow quality, and people claiming to be opera singers when they've never sung in an opera – it's a deceit. Those singers could never do the real thing, here in the Royal Opera, where the non-bastardised version takes place," he said in a recent interview.
His remarks come a decade after he told the Royal Philharmonic Society that attractive young musicians posing in wet T-shirts for "mass appeal" were emblematic of a "civilisation in rapid decline". In his 2002 speech to musicians and recording industry executives, he called the "sugar-coated programming of the recording of choice bits of easy listening" a "plague" and compared promoters of such acts to "well-organised hijackers with no musical sensibilities or taste".
Durham-born Sir Thomas, who has been cited by the playwright Lee Hall as the inspiration for Billy Elliot, was asked if things had changed since he made his now infamous speech. He responded: "No. It all stands." He once said: "The idea of a wet T-shirted quartet where once was Amadeus has me reaching for the sea-sick pills, or just retching."
Last year saw the first tabloid opera in Britain: Anna Nicole at the Royal Opera House told of the life and death of the Playboy model. Before that, Jerry Springer: The Opera featured Jesus, Mary and God as guests on the American TV presenter's show. The opera included up to 300 swear words.
Sarah Morrison(The Independent) / January 29, 2012
Weblink : http://www.independent.co.uk/
Photo credit : http://www.independent.co.uk/