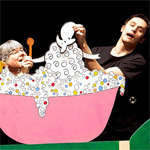 SEATTLE—During a recent performance of "The Green Sheep," a spectator burst into tears. Some in the theater feared the worst: a mass audience meltdown.


Luckily, most patrons at this play—designed for children aged 1 to 4—maintained their composure.
American theater is having a baby boom. After rising in popularity in Europe in recent years, sophisticated stage plays targeted to children as young as 12 months are increasingly being produced in the U.S.
This isn't babysitting, advocates say, it's art. The shows often let theaters explore a more avant-garde kind of drama, since works for children who haven't mastered language can't always rely on traditional storytelling.
"We were embarrassed to do toddler theater for a long time," says Linda Hartzell, artistic director of the Seattle Children's Theatre, which presented "The Green Sheep." But she says such shows can be highly sensory: "For the little ones, they need to smell it. They need to feel it, too. You need to engage every single part of their little beings."
The New Victory Theater in New York expects to sell out its preschool plays this season, including "Egg and Spoon," in which an actor holds a glowing egg and asks, "What do eggs dream about?"
Complications often ensue with this audience. At a performance of "My House," about a man whose best friend is a watermelon, one child became hysterical when the co-star appeared. Scotland-based performer Andy Manley, who created the piece, says he later learned the child had a melon allergy.
In Seattle, the title character of "The Green Sheep"—a stuffed animal handled by the audience after each performance—was sprayed with vodka every week to disinfect it after a more-conventional cleaner proved too smelly. In Minneapolis, toddlers stormed the stage during a bubble-bath sequence in "The Biggest Little House in the Forest," turning the theater into what Children's Theatre Company artistic director Peter Brosius called "a mosh pit."
The Minneapolis group has commissioned a new work from experimental-theater artist Ann Carlson, who two years ago performed a post-modern dance for toddlers in an AstroTurf suit. She's leaning toward a story with an upside-down tree.
Normally, Ms. Carlson creates pieces for adults. But she's intrigued by the question of how babies and toddlers perceive art. "How does performance even read to somebody that old?" she asks. "Is it different than life?"
In Seattle, "The Green Sheep," a 25-minute play originally from Australia and based on a book by Mem Fox, put kids and parents on stage in a "sheep pen," and actors walked around them during the show's recent run. Tickets were $16 for adults and children, free for theater-goers under one.
During several performances, children's reactions were remarkably consistent. When a "moon sheep" floated overhead to Tibetan singing bowl music, the audience became almost completely quiet. Most children were excited—standing up, cooing, raising their arms—when a blue sheet billowed above, simulating a wave.
Repetition helped build drama: The second time a sheep shot out of a cannon, kids fell silent with anticipation.
Ken Holmes believes the experience will make an impact on his 1-year-old daughter, Ruby. "I want to make sure she starts getting into theater early," said Mr. Holmes, managing director of GreenStage, which presents Shakespeare in the Park in Seattle. His daughter has already seen the bard's work. "At one, they're picking up stuff."
Betsy Ribera brought 15-month-old twins Heath and Nico because they love music and colors, but she had to stand up and bounce a wailing Heath mid-performance. "He's right at that age where new things freak him out a little," she says. Heath eventually calmed down.
Unlike other audiences, this one couldn't fake a polite response. Sarah Mixson, a bespectacled actor who performed the "clown sheep," says one girl looked at her and screamed throughout the play. She learned the tot was afraid of glasses and clowns. "Her mom said, 'You're the problem!"' Ms. Mixson recalls. "You can't take it personal."
And the sheep show faced competition from other entertainment. "He's been asking if there's a screen," Michelle Dell said of her son Noah, age two.
Mr. Brosius, in Minneapolis, says children are ready to be taken more seriously as an audience. "I watched one of our artists work on the Persephone myth with 4-year-olds, and they get it," he says.
But theaters must tread carefully. In 2006, his group scrapped a plan to stage "Goodbye Mr. Muffin," about a dying guinea pig, after concluding it should play to a slightly older audience.
Many shows come from Europe, where arts subsidies enable theaters to stage boutique productions. "Drum," in which kids 6 months to two years sit on drums while performers pound on the instruments, has been a hit in London. Last spring, the Scottish Opera produced "BabyO," a 30-minute opera for infants.
Over the past five years, Swedish director Suzanne Osten has presented the 80-minute "Babydrama," in which actors portray fetuses in the womb. In a book she wrote, Ms. Osten says she learned to read signs her audience is paying attention, including watching a child's "face with mouth open and saliva dripping."
Mr. Manley says his nearly wordless production of "My House," about the man with the watermelon friend, received vastly different reactions. The show left Spanish children "weirded out" because they're used to hearing adults speak when they enter a room, he says. American and British children babbled during performances, while Finnish babies were more taciturn. "They were still very engaged in it, but didn't feel the need to speak," he says.
At this summer's Edinburgh Festival Fringe, Mr. Manley's new preschool show, "White," drew full houses and critics awards. Mary Rose Lloyd, director of programming for the New Victory Theater, says she told another New York theater professional to "stay away from it" because she wants it first.
"White," for ages two to four, is about an all-white world, slowly drenched with color. Mr. Manley says children have gotten the message—that segregation is wrong—and some are shocked when a character tosses a red egg into the trash. "One little boy one day shouted out, 'Why?"' he recalls.
The play ends with a blast of rainbow confetti.
One theatergoer nearly had a meltdown: Louise Shannon of Edinburgh, who attended with her 16-month-old son. "I was almost crying at one point," she says.


Ellen Gamerman | September 20, 2010
Weblink: http://online.wsj.com