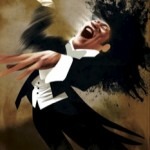 The classical-music world has a fraught relationship with fame. On the one hand, people are always pining for the days when Arturo Toscanini, Leonard Bernstein, and Leontyne Price dominated the airwaves and appeared on the covers of magazines.
On the other hand, whenever a contemporary classical musician brushes up against celebrity—this usually entails a segment on "60 Minutes," a Rolex ad, a photograph in People, and possibly the final slot on the "Tonight Show"—skeptics start to worry that the supposed avalanche of hype will wipe out any trace of artistic integrity. Such anxiety is not entirely misplaced: Luciano Pavarotti went from being the finest lyric tenor of the modern era to serving as the punch line for fat jokes. Then again, notions of the irreconcilability of commerce and art smack of college-dorm Marxism, and run counter to the spirit of Beethoven, Verdi, and Mahler, who addressed themselves passionately to the general public. Surely it is possible for a classical composer or performer to attain celebrity without surrendering to celebrity culture. Such a canny virtuoso might even persuade a terminally distracted Balloon Boy nation to pay attention to a forty-five-minute symphony.
Right now, all eyes are trained on the twenty-eight-year-old Venezuelan conductor Gustavo Dudamel, who took over as the music director of the Los Angeles Philharmonic in October. In just five years on the international circuit, Dudamel has become one of the most famous classical musicians alive, his ascent heralded by TV profiles, front-page newspaper stories, and YouTube videos. When he inaugurated his Philharmonic tenure, at the Hollywood Bowl, a crowd of eighteen thousand people greeted him with a hollering, stamping, pop-star ovation. Just as impressive was the hush that fell over the Bowl during the ensuing performance—an intelligently plotted, flowingly musical account of Beethoven's Ninth. Some ways into the Adagio, with Dudamel coaxing intricately expressive, aria-like playing from the violins against softly glowing choirs of winds, the hoopla receded and Beethoven took charge. Such feats of immersion explain why this young man has caused unaccustomed tremors of optimism in the classical world.
There are three main elements behind Dudamel's appeal. The first is his astonishing natural command of the art of conducting. Advance notice of his talent spread not through P.R. departments but in awestruck reports from such illustrious colleagues as Claudio Abbado and Simon Rattle, who encountered him on visits to Venezuela. Second, Dudamel has an infectious emotional energy that tends to win over jaded souls in audiences and orchestras alike. Not for him the stone-faced mask of seriousness; his bright eyes and wriggling features suggest that he revels in what he does. Finally, his Latino background puts a new face on an art that is widely viewed as an all-white affair. He is a product of El Sistema, Venezuela's legendary network of youth orchestras, which draws talent from the poorest sections of the country, and his perspective is bracingly different from that of the staid conservatory graduate.
Dudamel may yet burn out from all the attention, but the signs suggest otherwise. In person, you see a steeliness behind his ebullience. He is musically obsessed, intensely ambitious, and more than a bit radical. At the Bowl in October, before the main event of Beethoven's Ninth, he led the EXPO Center Youth Orchestra, a Philharmonic initiative, in a fuzzy but buoyant rendition of the Ode to Joy. Members of the audience remarked on the fact that the coveted stage-side seats at the Bowl, which are usually reserved for donors, had been given over to the families of the young musicians, most of whom came from South Central. It was a pointed, almost political gesture—like something that Bernstein would have done in his confrontational prime.
Dudamel long ago proved himself to be a master of roof-raising occasions. The real test of his abilities will come more gradually, as he goes about the daily business of running an American orchestra: conducting subscription concerts, planning future seasons, hiring musicians, soliciting donations, and—if he is truly a miracle worker—changing the complexion of the audience. Just before Thanksgiving, I returned to Los Angeles to hear how Dudamel and the Philharmonic worked together under more ordinary circumstances, in the regular subscription series at Disney Hall. I attended two consecutive performances of a high-minded, echt-Viennese program: Mozart's "Prague" and "Jupiter" Symphonies and Berg's Violin Concerto, with Gil Shaham as soloist. The works fell outside the late-Romantic and conservative-modern zones in which Dudamel has made his mark—his home turf of Tchaikovsky, Mahler, Bartók, Prokofiev, and Shostakovich.
They were elegant, thoughtful readings, proof of Dudamel's range. They were not, however, anything to put in the time capsule. Although Dudamel has the image of an impulsive conductor, a wild man of lunging arms and dancing feet, his musical choices tend to be controlled, sometimes a little predictable. He favored a lush, heavy sound in Mozart, as on old Karajan records. Strings outnumbered winds five to one—problematic in terms of balance, although the increasingly stellar Philharmonic woodwinds compensated with a series of vibrant solos. Tempos were on the slow side, bordering on the somnolent in the Andante of the "Prague" and the Minuet of the "Jupiter." Dudamel was at his best in the "Jupiter" 's slow movement, where he achieved the same exquisite layering of sustained and filigreed lines that made the Adagio of his Beethoven Ninth so memorable. For the most part, though, this Mozart needed punchier rhythms, cleaner dynamic contrasts, sharper details of articulation and phrasing.
The Berg Concerto, too, was curiously subdued. You might have expected Dudamel to wallow more in the veiled Mahlerian drama of Berg's orchestral writing. Yet the conductor was working to the advantage of his soloist. Shaham approaches this piece with uncommon sweetness, attaining at times a vividly vocal quality. Dudamel hovered in the background, presenting a muted color field on which Shaham could make his pastel strokes. In all, the program was rich in subtlety but short on electricity. It was good to see Dudamel challenging himself and the orchestra with such meaty fare so early in his tenure; the easier choice would have been to load the season with Romantic warhorses to keep the crowds happy. All the same, a noisy ovation greeted Dudamel after the last notes of the "Jupiter" sounded. Both orchestra and audience appear smitten.
Some breathless reports have anointed Dudamel the savior of classical music, but in L.A. no messiah is required; this orchestra has already been saved. Esa-Pekka Salonen, whose name went unmentioned in a "60 Minutes" profile of Dudamel, brought about a revolution during his seventeen years at the Philharmonic—a reorientation of the programming toward modern music, a tireless campaign to convince audiences of the power of the new, and an all-around aesthetic of adventure.
Fortunately, Salonen's vision now seems firmly implanted in the orchestra's identity. John Adams has assumed the post of creative chair, and while I was in town an Adams-curated festival—"West Coast, Left Coast," a celebration of California music—got under way at Disney Hall. The opening event was a bit chaotic, but it took surprising twists and turns: the Kronos Quartet played a wistful post-minimalist work by the film composer Thomas Newman; the duo Matmos presented two hypnotically dense electronic pieces; an ad-hoc ensemble tried out a meandering avant-gardish creation by the guitarist Michael Einziger, of Incubus; and, around midnight, Terry Riley, the founding father of minimalism, ascended to the organ loft to unleash a brilliantly bluesy improvisation.
Free-roaming concerts of this kind would be startling at most orchestras; at the Philharmonic, they are almost routine. How Dudamel adapts to the orchestra's fine-tuned experimentalism remains to be seen, but he seems eager to carry on Salonen's legacy, taking on a slew of new pieces and adding his awareness of Latin-American composers. Under Salonen, the Philharmonic became the most interesting orchestra in America; under Dudamel, it shows no signs of relinquishing the title.
Alex Ross | December 14, 2009
Weblink: www.newyorker.com/arts/critics/musical/2009/12/14/091214crmu_music_ross