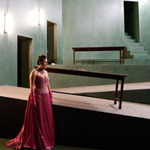 The Royal Opera House company hasn't performed in Japan for nearly 20 years. Nicholas Wroe accompanied it on a return visit and found the performers ready to reach out to the world.


On one level the Royal Opera's recent tour of Japan was, as a manager described it, "a team building exercise on a rather extravagant scale". The party of 250 people included a full orchestra and chorus, backstage staff, technical crew and management support. And indeed, in the time I spent following them around, I duly picked up on the warm and fuzzy feelings engendered by late-night sessions in karaoke bars, excitement over trips to Mount Fuji, the swapping of restaurant etiquette tips and problem-solving sessions involving apparently incomprehensible tube maps.
Not that there weren't operas as well. Performances of La Traviata and Manon in Tokyo and Yokohama were enthusiastically received despite some alarums and excursions involving understudies, and understudies of understudies. And aside from the full-stage productions, the Japanese promoters of the tour – who accepted all financial risk for the venture, leaving the opera house to break even at worst, also asked for a concert performance that would both show off the orchestra and chorus as well as somehow exemplifying British music for Japanese audiences.
"So I spent quite a lot of time planning it," explained director of music Antonio Pappano over a breakfast of fish, soup and rice at his Tokyo hotel. "We had some Elgar, Britten and Vaughan Williams. There was a bit of Gilbert & Sullivan and a few other things. I think we came up with a pretty lovely programme, but they said no. It turned out what they really wanted was Handel's Messiah." Which is what the orchestra, chorus and soloists of the Royal Opera performed, albeit in the expanded Mozart orchestration. The promoters' instincts as to local taste proved sound and, to the slight surprise of the company, a significant portion of the packed audience actually stood up for the Hallelujah Chorus.
While this throwback to a Clive James-esque slice of "how others see us" was a minor element of the tour as a whole, it is nevertheless true that Japanese taste – and Chinese, American, Korean and many other tastes – will not be irrelevant to the calculations made in London over the coming years. The tour might have marked something of a culmination of Pappano's successful nine-year artistic tenure at Covent Garden, but it also signified the beginning of a new, and far more ambitious, phase of the company's development. Although they are bracing themselves for cuts to their grant, which currently accounts for around 25% of their total income, chief executive Tony Hall says, "The really big strategic issue facing us is that in the very near future there will only be three or maybe four big opera houses in the world. There will be the Met in New York, maybe La Scala because of its historic reputation, maybe Paris and a few others you could argue over. But we will certainly be one of those world-class venues, and we therefore need Japanese audiences to see just how good we are because they will not just be seeing us on stage. The digital age will make a huge difference. We are already available on big-screen relays to cinemas, on DVD and via our Japanese language website. It won't be long before people will have, on demand, the world's great opera houses piped live into their homes. Occasionally people say that audiences for opera are small. That's not even true in national terms. But when you think in a global sense, the audiences are enormous and we will be available to all of them."
The contrast with the last time the company toured with a full orchestra and chorus, in 1998 to Finland, Germany and Edinburgh, is stark. The music making might have been exemplary under Bernard Haitink (who restricted himself to matters in the pit, the opposite of Pappano's access-all-areas, hands-on approach), but back then the company was homeless while Covent Garden was closed for renovations and there was a genuine fear that it might not reopen. And while the worst of the management convulsions that had destabilised the company over the previous few years were over, the company still felt organisationally fragile.
Of course, the house reopened in 1999 as a far more welcoming building, both to its audience and to those who just fancy a nose around or a drink in a bar. And as well as being less remote to its audience, the organisation is also now better linked to other arts companies and has a kind of mentoring role for groups such as Ballet Black and Music Theatre Wales.
But just as the 1990s problems of organisation and access were not solved without pain, so the road to the digital future is already proving bumpy. One night in Japan, the opera company hierarchy were obliged to calm a Twitter storm of protest about their apparently heavy-handed response to a copyright issue on the opera blog Intermezzo. Last week a new row over a perceived "rights grab" as to ownership of work done on Royal Opera productions blew up. "We are in slightly uncharted waters," Hall admits. "We are in a very different age to a decade or two ago when significant sums of money could be made from studio recordings. That money is no longer there. It is also difficult to keep track of a market that moves very fast. So we are trying to do something with our contracts that allows us to respond, with the artists and with their consent, as fast as we can to exploit our productions in the marketplace, knowing that the returns are much lower than they were two decades ago."
Although the business model remains a work in progress, there is general consensus that in musical terms Pappano has pretty much got it right. "When even Massenet can seem deep, something remarkable is going on," said one reviewer about the new production of Manon earlier this summer. "Under Antonio Pappano's stewardship, the Royal Opera is experiencing a golden age of musical sensitivity and dramatic insight." Another commentator compared the organisation to a big Rolls-Royce "just purring along".
Pappano says it took him five years to feel in proper command of the orchestra – "to get that feeling you really understand each other, that you are inhabiting each other's sound world." He is plainly held in very high regard by his players and singers and while nearly everyone I spoke to in Japan had the decency to admit that the oft-used description of them as a family was cheesy, they also said it did bear some resemblance to the truth. More importantly, this team spirit carried through to the stage, most notably when soprano Ermonela Jaho – herself a late replacement for Angela Gheorgiou, who pulled out of the tour just a week before departure – twice had to be replaced after the first act of La Traviata by her understudy Ailyn Pérez. Potential artistic – and commercial – disaster was avoided with impressive ease.
Pappano returns to the house next week with a concert performance of Bizet's The Pearl Fishers. He likes to give the orchestra a chance to play on stage before they disappear into the darkness of the pit for the rest of the season. "And I have a very warm spot in my heart for this work. The orchestral writing is typical Bizet but with an element of the sea – so a different tumult to Carmen, but still something pretty meaty for the home forces to chew on."
The new season also features a rare production of Wagner's Tannhäuser and a series of operas that appear to feature "women under duress": the baroque rarity Niobe (witnesses murder of her 14 children and is then turned to stone), Adriana Lecouvreur (poisoned) and Mark-Anthony Turnage's new work Anna Nicole – with lyrics by Richard Thomas of Jerry Springer: The Opera fame – about the Playboy model and controversial heiress who died aged 39 in 2007 after an apparent drug overdose.
"It's a wonderful season," says Pappano, "although I'm also aware that 2011/12 could well be a bit tougher financially. But the company has been prudent and we have tried very hard not to make any compromises in the repertoire. All this will be discussed over the next few months, although for me changing a title for financial reasons will really be a defeat. What is good is that all the decisions are thought through from top to bottom of the organisation. Yes, the beans are counted, but that is just part of the equation."
Pappano's current contract will take him to 2014, but he is already scheduling 2015. He wouldn't be short of offers if he did want to move, and his recent BBC television series Opera Italia, which will be repeated later this month, has seen him increasingly cast as the accessible front man for classical music, a job he admits is both attractive and important. "But I really am very happy here and I am up for the fight that we have ahead of us. In the end, all that matters is what is on stage. It really is all about the work and that makes me optimistic. I know the people I'm working with and I know the capacity they have. You come back from something like this Japan tour and you bring home all the good habits about working together you've picked up on the road. Everyone wants to make it work so we have every chance of pulling it off. I'm Italian so I like cooking analogies; when you have top ingredients you have to do something drastically wrong to spoil the meal. I think the chances are we will prepare something that will taste pretty good."


Nicholas Wroe | October 2, 2010
Weblink: http://www.guardian.co.uk