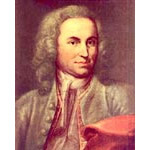 Today is the 317th anniversary of Johann Sebastian Bach's birth. Morning Edition host Bob Edwards uses the occasion to discuss Bach's passions — in life and music — with Miles Hoffman, a commentator on NPR's Performance Today and artistic director of the American Chamber Players.


Hoffman says it's important to remember that — unlike the classic portrait showing Bach as "bewigged, bejowled, stout and stolid" old man — the composer was once "a handsome, dashing guy." Much of Bach's best-loved music, including the Brandenburg Concertos and the pieces for solo violin and cello "were written when he was a young man in his 30s," Hoffman tells Edwards. 
Hoffman makes that point in the following essay, appropriately titled "Johann Sebastian Bach Was Handsome Once": 
When people discuss the music of Bach, words like "God" and "transcendence" tend to figure in the discussion. Gustav Mahler wrote that "in Bach, the vital cells of music are united as the world is in God," and Goethe said of Bach's music, "it was as if the eternal harmony was conversing within itself, as it may have done in the bosom of God, just before the creation of the world." (Goethe's version of the Big Bang theory.) 
And certainly it's true for Bach, as literary critic Harold Bloom has said it is for Shakespeare, that the only legitimate approach is to "begin by standing in awe… Wonder, gratitude, shock, amazement are the accurate responses." 
The only problem with this approach is that we tend to forget that Bach was a human being. And for me, the key to understanding the greatness of Bach is to recognize that what propels his music, what infuses every note, is his very human passion. Whether it's sacred music or secular, it's always passionate. Indeed, it's important to remember that the emotions that find their expression in religion, or in religious texts and musical settings, are but variants of the feelings common to all people: love, longing, fear, devotion, peace, excitement, expectation, comfort, joy, and so forth. There's no question that Bach had extraordinary skill — skill for which the word genius is too weak — but it's almost as if he was so skilled that his skill became irrelevant: listening to his music, I often have the impression that Bach somehow skipped the middle man, that his thoughts, his passion, his passions, simply emerged as music.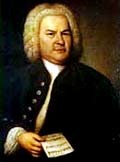 The truth, however, is that to most people it never occurs that Bach was a passionate man. And why not? Because of one portrait. The only authenticated portrait of Bach shows him as an old man — bewigged, bejowled, stout and stolid. This is the portrait everybody knows, the portrait of the serious, solemn, even severe "old master" who played the organ and taught counterpoint to generations of children at the St. Thomas Church in Leipzig. Looking at this portrait, it's not hard to imagine that Bach was great, but it is hard to imagine that he was ever young. Or slim. Or good-looking. But he was all those things. And more. He had 20 children, after all, and he didn't create them at the harpsichord. Many of the works we know and love, including most of his great instrumental works, Bach wrote in his twenties and thirties. We remember that he died at the age of 65, but somehow we forget that he wasn't born at 65. He always had quite a temper, was no stranger to scraps with his employers, and as a young man he once even managed to get himself into a sword fight. 
What led me to these considerations of Bach's passion wasanother portrait, much less well known and, alas, not authenticated. But it will do. Staring out from this portrait is a young Bach, a handsome Bach, a dashing, intense man. I felt, as soon as I saw this portrait, that it offered a key to understanding both the man and the music. 
Musical Excerpts Heard in this Story 
1. "Opening Chorus," St. Matthew Passion, Chicago Symphony Orchestra and Chorus (London Records). 
2. "Concerto in D Minor for Two Violins and Orchestra, Second Movement," Israel Philharmonic Orchestra 60th Anniversary Gala (BMG Classics) 
3. "Brandenburg Concerto No. 2, Third Movement," English Chamber Orchestra (Philips) 
4. "Toccata and Fugue in D Minor," Michael Murray, organ, (Telarc) 
5. Aria "Erbarme Dich," St. Matthew Passion 
6. "Closing Chorus," St. Matthew Passion 
Other Resources 
• Bach Frequently Asked Questions (FAQ)
• Performance Today's list of 50 essential classical music CDs

Miles Hoffman| March 21, 2002
Weblink: npr.org