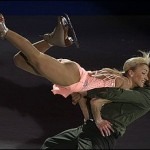 When the exquisite Soviet figure skating pair Ekaterina Gordeeva and Sergei Grinkov took the ice for their free-skate program at the 1988 Winter Olympics, they bounded off to the rousing lilt of Mendelssohn's Symphony No. 4 ("Italian"): music that matched their lyricism, drive and evident weightlessness as they flew across the ice.


Suddenly, though, the music segued into Chopin's Piano Concerto No. 2 — one arcing jump was perfectly timed to an ornamental figure in the piano — and then into a tacky instrumental arrangement of Chopin's "Revolutionary" etude.
The 4 1/2 minutes of their program included five pieces of music, ending with the overture to Mozart's "Marriage of Figaro" kitted out with a subtle disco beat. Their skating performance was perhaps one of the greatest in history. But the music itself, as music, was kind of a mess.
Fast forward to 2010. Going into the pairs competition at the Vancouver Olympics, which starts Sunday, the top-ranked skaters (despite a second-place finish at the European championships in January) are Aliona Savchenko and Robin Szolkowy of Germany. They are skating their free-skate program to a single piece of music. To a music lover, the effect is much less jarring than Gordeeva and Grinkov's patchwork. But the music isn't as good: It's from the "Out of Africa" film soundtrack.
Music for skating has never been noted for its quality. Fans are accustomed to kitschy arrangements, abrupt cuts and sub-par sound systems. Yet over the years, in part because of the improvement in technology, there's been a shift away from random juxtapositions toward programs that are at least thematic (the American Ryan Bradley played an 18th-century gentleman at the U.S. championships in a free-skate program that was variously labeled "Amadeus-Mozart medley" and "Baroque medley," and ranged from Mozart's "Eine Kleine Nachtmusik" to Bach's "Air on the G String") and at best have some musical integrity (Jeremy Abbott, the U.S. champion, is skating to an excerpted movement from Saint-Saëns's Symphony No. 3).
"The editing is better," says Audrey Weisiger, a coach at the Fairfax Ice Arena who twice led the U.S. Olympic team and coached three-time U.S. champion Michael Weiss. "People now don't mix genres. Our tastes are probably more sophisticated; our technology is better." But the content remains variable.
Athleticism or art?
Music epitomizes the uneasy line that figure skating has long tried to walk between athleticism and art. Do you want a skater who creatively interprets the music and gives an ethereal, memorable performance? Or one who can nail all the jumps? The answer has never been clear.
That tension was brought into the spotlight at the 2002 Winter Games, when Russians Elena Berezhnaya and Anton Sikharulidze beat the Canadian pair of Jamie Salé and David Pelletier because their marks for "presentation" (the art part) overshadowed the Canadians' clear win on "technical merit," because a French judge was coerced into skewing her vote.
The resulting controversy sparked a massive overhaul of the rules and judging system in 2004. Yet even under the new system, which involves minute scrutiny (with replays) of each technical element involved in a program, a part of the final total includes marks for choreography and interpretation — the "art" part of the equation, which directly relates to the musical selection.
Initially, the new rules inspired skaters with a new sense of caution. Skaters are "starting to use music that is repetitive and has less definition than it used to have," Weisiger says. "A lot of programs now use music that sounds the same over and over, kind of drones on and on."
But Weisiger doesn't think the new rules are the whole problem. It's "also a new generation of choreographers," she says, who "don't have the same appreciation for classical music."
Even for those who do want to improve the musical level of the sport, there are limits to what you can do in less than five minutes, especially when you're working with a skater, a choreographer and a coach who may all have their own ideas of what they want.
"The problem is that these people don't know any music," says music writer David Hurwitz, who established a small side business on his CD-reviewing Web site, Classics Today, to advise figure skaters on their musical choices. Skaters tend to cling to what has done well before: "Carmen," in various permutations, tops a list that includes a heavy dose of Russian ballet and dance music ("Swan Lake," "Scheherazade") and Spanish-themed works.
Just mood music
Increasingly popular, too, are film scores. "Film scores have no rhythm," Hurwitz says. "It's just mood music, not meant to be choreographed. But they do it anyway, because they liked the movie [and can] wear a funky costume."
Even the musically knowledgeable do things to their musical selections that would outrage any purist. Alexander Goldstein, a Russian-born composer who has been arranging music for athletes since he worked with the Soviet figure skating and rhythmic gymnastics teams in the 1970s, points out that on his computer he can "make the music faster, make the music slower, without any degradation of the sound quality." But that's the least of his manipulation.
For the Japanese skater Miki Ando, the 2007 ladies' world champion, Goldstein has assembled a short program from excerpts of Mozart's Requiem. The problem is that no branch of figure skating, except ice dancing, allows words in the musical selections for its programs. Goldstein, therefore, had to creatively arrange the score. "I used the choir, but they don't pronounce any words," Goldstein says. The result is a kind of expressive vocalise that, as he says with a "what can I do" tone in his voice, "fulfills the figure skating requirements."
Weisiger, whose mother is a concert pianist, also resorted to rewriting when helping Weiss assemble his 1998 Olympic program to Beethoven's Piano Sonata No. 8 ("Pathetique"). She felt the music needed something more than a piano in the slow section, so she beefed up the arrangement with a cello and a clarinet.
"The guy who helped me arrange it said, 'Beethoven is flipping over in his grave,' " Weisiger says. Perhaps not as much as Tchaikovsky is in reaction to Goldstein's creation in 2007, for the male Japanese skater Daisuke Takahashi, of a hip-hop version of "Swan Lake."
Non-masterpieces better?
There's an argument to be made for using ballet music and film scores rather than more demanding works: If you're going to chop a piece of music down into a four-minute segment, perhaps it's better to use functional music that was written to be adapted to its users rather than masterpieces that can only suffer through abridgement — like the arrangement Goldstein prepared for the Canadian ice dancers Tessa Virtue and Scott Moir of the Adagietto from Mahler's Fifth Symphony.
"You need something people can relate to, something that can evoke some kind of picture quickly," Weisiger says, wondering how many iterations of "Phantom of the Opera" will be heard at this year's Olympics.
In fact, some risk-takers have been rewarded, like the ice dancers Jayne Torvill and Christopher Dean, who did more than perhaps any other skaters to elevate the sport to an art form with, among other things, their signature dance to Ravel's "Bolero."
But coaches are still leery of putting their skaters at a disadvantage. Weisiger dreams of creating a routine to Debussy's "Afternoon of a Faun"; "it's just so ethereal," she says. But one day when she played it at the rink, she says, "one of the young male coaches skated by and said, 'Oh, God, don't use that; that will put everyone to sleep.' " As a result, it's back to the status quo, where "all the guys want to see the action hero," she says, and adds, "and all the girls skate to something Spanish."

Anne Midgette | February 14, 2010
Weblink: www.washingtonpost.com/wp-dyn/content/article/2010/02/11/AR2010021105474.html