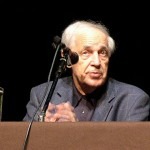 Pierre Boulez has traveled vast distances since those early years when the incendiary young modernist clawed and shouted his way to the top of the Parisian musical avant-garde. Having made the long journey from enfant terrible to grand old man, he no longer has to shout to be heard. And when he makes pronouncements, he no longer does so with lofty derision but with smiling authority.


On March 26, the French composer and conductor, one of the most distinguished figures in contemporary music, will turn 85. The Chicago Symphony Orchestra, with which Boulez has enjoyed an exceptionally cordial relationship that goes back four decades, is celebrating that milestone with a series of concerts and discussions throughout the month that will bring audiences closer to Boulez's music, as well as give them the chance to hear him conduct new pieces along with classics of the 20th century with which he has long been identified.
Speaking by phone from his home in Paris, Boulez talked enthusiastically about his return to the CSO, which promoted its former principal guest conductor to conductor emeritus in 2006 and which he will take to Ann Arbor and New York's Carnegie Hall later this month. He spoke less enthusiastically about reaching 85.
"I accept my age when we speak about it, but when I see it in print, that's not very encouraging!" he said with a wry chuckle. That he is about to turn 85 "feels even more unreal now" to him than when he reached his 70th, 75th and 80th years, he added.
Fortunately, Boulez remains in good health following recent eye surgery, the result of a fall he suffered in Japan in November when he received the $500,000 Kyoto Prize from the Inamori Foundation for his lifelong achievements in music.
Over the years Boulez, through his precise and lucidly organized performances, has done much to break down the resistance of Chicago musicians and audience members alike to much contemporary and unfamiliar music. This also relates to wisdom accrued with age, Boulez observes.
"When I am in front of an orchestra, the players know I have quite a lot of experience behind me. Therefore there is a kind of — respect is too hard a word — agreement that I know my business. I try to persuade them as to the merits of a given score without forcing them to swallow something they don't want to swallow. I have found that generally when an orchestra is convinced about a work, this conviction carries over to most of the audience."
As for his listeners, Boulez said he has found that, at least in Europe, audiences no longer seem to fear what they don't know. "Even if they are sometimes puzzled or don't quite understand the musical content, they are confident in what I am doing, because they know I believe in a given work and can conduct it without any trouble."
Boulez's own intricately crafted music, which adheres to the doctrine of total serialism he first propounded during the 1950s when he declared that any composer who doesn't feel the necessity of Arnold Schoenberg's 12-tone language is "useless," continues to have its passionate advocates as well as passionate detractors. Among the latter are fellow composers Ned Rorem and John Adams. Adams, whose opera "The Death of Klinghoffer" Boulez decries as "bad film music," calls him "a mannerist, a niche composer, a master with a very small hammer."
Chicago listeners will have the opportunity to hear examples of early, middle and late Boulez and judge for themselves whether his music has something significant to say to them. Pianists Pierre-Laurent Aimard and Tamara Stefanovich will perform Book 2 of his pioneering "Structures" (1961) on the same MusicNOW program as his "Messagesquisse" for seven cellos (1971) and "Anthemes 2" (1997) for solo violin and live electronics. And a CSO subscription program will include his 1968 "Livre pour cordes" ("Book for Strings"), a pivotal piece in Boulez's catalog.
Conducting his own music as well as that of the composers of the last century with whom he has particular affinity — Schoenberg, Berg, Webern, Stravinsky, Bartok, Debussy and Ravel — has had two results, Boulez explains.
"The first result is that I am more realistic than before. Experience, if it's any help, gives you a sense of the possible — what you can achieve in practical terms with an orchestra. I know that maybe I can achieve more now than before. The second result is that by conducting the music of these composers I learn how they exploit their musical ideas. This I find very interesting in terms of my own composing."
Boulez is the first to admit that his extensive conducting activities have stolen time away from writing music — a situation he hopes to improve next season when he will take another sabbatical from conducting so he can concentrate on finishing the orchestrated set of "Notations" he has owed the CSO since the early 1990s.
Much as observers like to label him as little more than a musical theoretician, the fact remains that the more one listens to his music, the more its sensuous, even seductive qualities are apt to emerge.
Does Boulez regard himself as a spiritualist?
"No, religion is not my cup of tea," he replies. "But I have the religion of art. You can express your human feelings through music — that is essential to me. If music is only a construction of logical thinking, that's not terribly interesting. I like composers who have the right balance between feeling and a musical organization that reinforces those feelings. For me, the late Beethoven quartets are a model of how to achieve that. I feel very close to that music."

John von Rhein | January 5, 2010
Weblink: hchicago.metromix.com/home/review/the-lion-in-winter/1696890/content
Photo credits: wikimedia.org