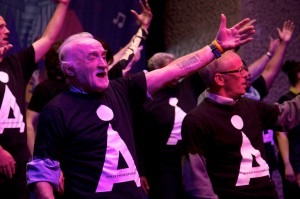 LONDON — Some singers wait a lifetime to perform at one of the world's top venues but for members of the homeless community, they received their moment in the spotlight at London's famous Royal Opera House on July 2.

The sold-out performance of With One Voice, featured 300 members of the homeless community from all around the world, and marked the first time homeless people were part of an Olympic Games.
Streetwise Opera, a charity that combines the two seemingly different worlds, enlisted people who are homeless or who have experienced homelessness in their lifetimes, together for the special event.
Tony Hall, the Royal Opera House's Chief Executive Officer, said the event also marked a first for the venue.
"What is amazing is that we've never done anything like this before. It's a complete first for the Royal Opera House. It's also a first for the Olympic Cultural Festival. When you see what these people are doing, and of course they've come from all over the world so it's really Olympian in that sense, when you see what they can do, you realize what amazing power and creativity and zest they have in all the things they're doing," he told Reuters Television.
Streetwise Opera was formed by opera critic Matthew Peacock, who volunteered at a shelter, after former Conservative cabinet minister Sir George Young famously said: "The homeless are what you step over when you come out of the opera."
"We feel that the Royal Opera House is our performers' rightful home, and we feel that they deserve the best. It's a wonderful opportunity for Streetwise Opera, for all the organizations here. And also it's a demonstration that the Royal Opera House is a place for everybody. It's interesting that opera and homelessness are two parts of society that are often misunderstood," said Peacock.
Performer Drew Foster, who's battled and overcome alcohol addiction amongst other illnesses, said joining the singing troupe has boosted his self-confidence.
"It's given us a massive amount of self-esteem. It's given us a massive sense of pride. It's given us a huge sense of hope that anything is possible. Three years ago, before I joined Streetwise, I'd virtually given up on life. I never thought I'd see theaters like this," said Foster.
He added that after being involved with Streetwise Opera, it's given him the confidence to try other forms of performance art such as acting.

Reuters / July 9, 2012

Weblink : http://www.musicalamerica.com/
Photo credit : http://www.musicalamerica.com/