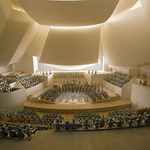 There is a lot of expectation about the new theater being built in Miami for the New World Symphony, it is planned to be inaugurated by October 2010.


This new concert venue wants to reach out much farther than ordinary theaters, it aims to use film and technology by projecting live concerts and rehearsals into the external wall of the building with the purpose to attract music lovers and most of all new potential music lovers and younger audiences.
It speaks to the people walking along Lincoln Road, inviting them to come listen and enjoy sitting in the garden adjacent to the building while they watch the projection of a live performance that may be taking place inside the theater. This state of the art theater has been designed by world renowned Arquitect Frank Ghery, using the latest design and technology. The idea behind the use of sound technology and film is that now days any new composition of music will be recorded, interpreted and documented for future generations of musicians and conductors with the comments and ideas of the original composer.
Another interesting feature is to use education as a tool to complement and enhance a performance of a determined work of music, for example a symphony by Copland will have the description of the work some ideas expressed by the composer and a photo all this projected in a wall behind the orchestra while the music is being played, and in the case the composer is alive, then there would be a live interaction by having this composer in a live video talking about his music and ideas .All this is going to change the way we feel about classical music, it will bring it closer to us and it will be not only audio but an audiovisual experience. Bravo, for the New World Symphony.


Vivian Fulop-Shlesinger | September 6, 2010
Weblink: http://www.examiner.com/
Photo credit: http://www.knightblog.org/