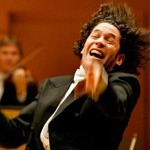 Even before Gustavo Dudamel was named music director of the Los Angeles Philharmonic, in April 2007, an image of the young, charismatic conductor had begun to appear before the public, heralded by buzz about the flamboyant new maestro.


At the same time, music-lovers were learning about his background as a product of Venezuela's innovative, nationwide music education program, called El Sistema, and about his triumph at the first Bamberg Symphony Gustav Mahler Conducting Competition six years ago. With his talent and background, he seemed a natural fit for L.A.'s sprawling, diverse, metropolitan community. Part of his job description was to help invigorate the Philharmonic's ongoing programs of outreach and educational initiatives.
From the audience perspective, the Philharmonic's audacious hire of the now-29-year-old maestro has been amply rewarded. Bay Area folks will be able to judge this for themselves when Dudamel leads the orchestra in two concerts, May 10 and 11 at Davies Symphony Hall. But what figure does he cut with the musicians who play under his baton, and with those who work with him on community outreach and youth programs? What's "The Dudamel Effect" outside the concert hall?
"It's clear when he's onstage conducting, and it's evident when he's moving in public: Gustavo's a kind of man of the people. He's one of us," violist Minor L. ("Mick") Wetzel said, responding to the query. "He's as comfortable with food servers as he is with the mayor of Los Angeles. It has to do with his background, and with his language skills, but most of all with his personality."
Wetzel commented, too, on Dudamel's recognition value: "He'll extend our 'brand' to a wider spectrum everywhere, and deeper into the L.A. community."
Tales of Two Maestros
"Esa-Pekka's approach was from a different angle," Wetzel remarked of Dudamel's also-celebrated predecessor, Esa-Pekka Salonen, "but to the same effect. Who he was and what he did was unusual, unprecedented. But he drew in the audience — and the people kept coming, even when the music was outside the comfort zone for some. It wasn't just a new reach …"
Stacy Wetzel, Mick's wife and a first violinist in the orchestra, also commented on other similarities and differences between the two conductors.
"One of the best things carrying over is good rapport and mutual respect [between conductor and musicians]. Esa-Pekka was not a string player, but he turned that to his advantage. His daughter had the same violin teacher I had, and Esa ate it up, trying to gain an understanding of what would and wouldn't work with string players. With Gustavo, it's flipped the other way, He's a good violinist, and has a natural, instinctive way with the string sections, who follow him easily. Both Esa-Pekka and Gustavo have been willing to work with the concertmaster."
Mick added, "Esa-Pekka is known among musicians for his interpretive skills — rhythmically driven, precise. Gustavo's MO — and this may be an inside scoop! — is his passion, which is melodically driven. When either wants to demonstrate something, they sing — exactly in key! — and very precisely. It's interesting that's where their minds are, not vertical, but skeletal. We were practicing Mahler this morning, and Gustavo turned to the violins and expressed what he wanted by singing. He'll say something to us like, 'More vowels, fewer consonants …' And there he is, scattin' away on the podium!"
Elizabeth Baker, a Los Angeles native who has known Stacy Wetzel since their teenage years together at Cal Arts' prep school, has been a violinist with the L.A. Phil since 1987. Before that, she played with the San Francisco Symphony alongside her mother. ("We worked together for about 10 years; then it was time for me to spread my wings," she said.) She remarked:
Every music director comes with his own particular gifts, his own voice. Esa-Pekka and Gustavo both have distinct qualities, are from two different cultures, which carry with them, but both are very enthusiastic on the podium. Both have their own genius. Esa-Pekka always amazed me, how he could absorb a score, especially contemporary music, or, say, Messiaen. He never made a mistake; he ate it for breakfast. The more complex it was, he'd display it in such a way, he'd make it so easy for us.

Gustavo absorbs the music on an emotional level and lives it out in his body. The rehearsals are intense; it's hard work, with concentration on focus, sound, phrasing, different aspects of the score, as he understands them. He invites us into that world. He uses imagery, sings when he wants, also tells a story to get across what he wants to portray. I've had years of experience with other music directors; this is my first chapter with Gustavo and it's a page turner, and I want to keep reading. I'm impressed, keep saying, 'Wow! Anybody who makes Tchaikovsky's Sixth fresh has something to them!' It's my 33rd season, and I'm ready for the ride.
The Wetzels have three children; as parents and musicians, they're concerned about music in the schools. Both have "done a good amount of time in the education department, which was easy when our kids were little," Mick said. "We had to bow out more, several years ago. But we're all in a time that's critical, especially in a community with the diversity of L.A., in the hotbed of the economic crisis. We have to devote some time to fledgling communities who haven't been able to explore the arts."
Connecting With Youth of All Ages
Stacy coaches in Santa Clarita, and has been able to observe Dudamel at work in educational outreach. "He makes it galvanizing for the kids," she noted. "And of course for fund-raising. So many kids have no idea at all about classical music. In San Francisco our first year [both Wetzels played with the S.F. Symphony from the late 1980s to mid-'90s], there was a survey of how many of the musicians had started on their instruments in public schools. It was over 50 percent. But we can't just turn to the schools, or even to the government. The Philharmonic has to take on part of the task, has to reach out, including bringing new people into Disney Hall [the Philharmonic's home base]."
She recalled an outreach session in which "Grandmotherly ladies, who helped raise funds for the programs, were excited to tell us their grandchildren were involved in playing in the string section in school, and in the school play. Another had music education made a regular feature [in a school] again. Usually, it's after the 'zero' period, after school, if at all; but she thought it important enough to make it part of the regular school day, the way it had been."
Mick picked up the thread: "We've taken the pulse of the community, and there's a hunger for this. … And it's funny, you know, how the pendulum swings. In San Francisco, we had Edo [De Waart], then [Herbert] Blomstedt, then the opposite: MTT [Michael Tilson Thomas]. That's not in terms of judgment, but a sense of focus. Esa-Pekka is in the European modern tradition; his paradigm is new music. And you know, with Gustavo, it's kind of a bummer for us. … It's the first time in our careers we've had a conductor younger than we are! But he handles himself so well among the youth, and with young kids. It's his age, yes, but not only his age, his personality. It's a gift."
Baker, who is involved with the Philharmonic's Youth Orchestra Partnership program, commented:
I'm very impressed with the commitment of the L.A. Philharmonic to educational outreach. I myself am a product of the L.A. School District, and played in orchestra in high school and junior high school. I hope what's started here becomes wildly contagious, nationwide. It broke my heart to see music programs leave the schools. It's been proven that young people have more self-discipline if they're part of a school program. I jumped in quickly as a child, and have been on the coaching team for the S.F. [Symphony's] Youth Orchestra, with my mother as a coach, too.

Even before Gustavo came, there was quite a bit of outreach — youth orchestra, concert series for youth, for communities; most orchestras have that kind of involvement with the community. Now, YOLA [Youth Orchestra Los Angeles] is expanding, permeating L.A., its society and different cultures, slowly and steadily expanding.
Baker also teaches privately. "Some students come from youth orchestras," she observed. "Private direction helps a young person to develop knowledge and style, one on one, and to learn the process of how to be in an orchestra section, which is not always possible in a strictly rehearsal situation."
New Youth Orchestra Gains Steam
Gretchen Nielsen, director of educational initiatives for the Philharmonic, said that YOLA, now two-and-a-half years old, was a response to "looking at the big landscape of L.A. and realizing that not every child has equal access to music, to music education. She observed:
There's a big swath of emptiness at the urban core — no music education during or after school. We're now in partnership with schools, community centers. Gustavo's mentor, Dr. [Jose Antonio] Abreu [who founded the Simon Bolivar Youth Orchestra, and El Sistema, in Venezuela, and pioneered its international exchange programs], calls an orchestra the most beautiful metaphor for community. The Expo center [in South Central L.A.] and the Harmony Project have helped us. Even while Deborah Borda [president and CEO of the Philharmonic] was pursuing Gustavo — all over the world! — a small group of L.A. Phil members spent a nucleus of time in Venezuela, and it was a transformative experience. There's nothing like it anywhere. When children sit in a concert hall, they're hearing music they've played. They know it in their blood.

There were plans in place to bring some of that here before Gustavo was named. I don't believe there's been a transfer of the core beliefs, so much as an adaptation to the U.S. Gustavo wouldn't have chosen to come here if there wasn't that dedication and commitment. And we made it happen very quickly. We started the kids in YOLA at zero; they were able to play with him at the Hollywood Bowl two years later!

I first saw Gustavo rehearse with YOLA in December 2008, and L.A. Phil musicians who were there turned to me and said, 'He rehearses with them in exactly the same way he does with us.' He's bringing enormous visibility to this work; we couldn't have done it without the attention, often rather short, of the media. It's happening to everybody here. There have been high expectations, all mixed with love.
The Instrument-Maker Lends a Hand
Also contributing to Los Angeles' music efforts for youth is Antonio Rizzo, 83, is a community volunteer with the educational program who has given the old term "in-kind donations" a new twist. Rizzo took up violin making, for which he has since won awards, when he retired from being an engineer. He donated some of his stringed instruments to the Philharmonic's educational program at the suggestion of Barry Gold, a cellist with the orchestra, whom Rizzo met at the Hollywood Bowl rehearsals he started attending five years ago.
Rizzo later called the educational program and asked who repaired the instruments. Finding out there was no single repairman, Rizzo "thought it over; it'd be a nice thing to do." Now he attends rehearsals of the youth orchestra. "I enjoy it so much every Saturday morning. I feel like a grandfather with a hundred kids. I see it in their faces, how much they appreciate it," he said. He's also tutored a Guatemalan student in instrument-making, via Skype and during a visit she made to Los Angeles.
Of the instruments the student musicians use, Rizzo remarked, "If they have good-sounding instruments, they have that much more incentive to play better. It's too bad the schools and educational programs are strapped for cash."
Rizzo hasn't seen Dudamel conduct the young musicians yet, but he can see the "Dudamel effect": "He's impressed all the musicians. They're so happy to have gotten Dudamel. When he's mentioned at YOLA rehearsals, the kids light up. Knowing he'll be conducting next Saturday, the kids are all excited. He's made a strong impression."

Ken Bullock | May 4, 2010
Weblink: http://www.sfcv.org/