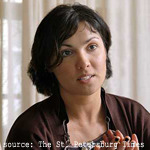 The fascinating Mariinsky Theater opera singer Anna Netrebko has decided to halt her application for Austrian citizenship following a wave of criticism in the Russian media questioning the diva's patriotism and accusing the charming soprano of being a traitor.


"I am both upset and frustrated," the star told The St. Petersburg Times in an interview at the Mariinsky's Backstage restaurant on a fleeting, one-day visit to the city last week. "It turns out I can't afford to make my own decisions anymore."
The singer, who is popular in Austria and Germany, said her citizenship application had been considered favorably by the Austrian authorities but she has had second thoughts and suspended it.
Being branded a renegade in her home country was more than the singer could bear.
"There is more to it than some reporters calling me a defector, as if we are at war; even some of my fellow Mariinsky musicians would approach me, and whisper dramatically, 'How could you do this?', 'Oh, I can't believe it' or something equally disapproving," Netrebko recalled.
"I am not a deserter," repeats the singer, who was granted the State Prize of Russia, the country's most prestigious cultural award, in 2004. "My idea was to retain Russian citizenship while getting an Austrian one as well. Dual citizenship doesn't exist between the two countries but the authorities were willing to make an exception."
"I am a singer, I have an international audience, and I shouldn't be going through this humiliation, these endless applications [for visas] and waiting [for papers] with a sinking heart," she said.
"I have concerts in Austria next week, and I still haven't received a new Schengen visa. I don't deserve this disgrace. The audiences want me there, all the tickets have been sold but I still have to sit and wait for a visa."
The singer, whose international engagements include regular performances at the Royal Opera House (Covent Garden), the Vienna Opera, the Salzburg Festival, the Bavarian Opera, the San Francisco Opera, the Los Angeles Opera and the Metropolitan Opera in New York, has to carefully calculate each stay in Schengen-visa countries (Austria, Belgium, Denmark, Finland, France, Germany, Iceland, Italy, Greece, Luxembourg, Netherlands, Norway, Portugal, Spain and Sweden. All these countries except Norway and Iceland are European Union members).
As a Russian citizen Netrebko is limited to staying in these countries for only up to 180 days a year.
The visa regime between Russia and EU countries is strongly criticised by ordinary travellers, who often describe the process of getting a visa as "humiliating."
The complaints come from both the Russians travelling abroad and EU citizens planning a trip to Russia.
But don't international performers such as Netrebko have a way around the bureaucracy?
"No, we all go through this — and [the Mariinsky's artistic director] Valery Gergiev duly submits his application to be reviewed [like everyone else], until people get the chance to get a second citizenship and decide to go for it," Netrebko said. "It is not a question of being disloyal to your home country. It just helps to make our hectic and pressurized lives a little bit less stressful."
So when Netrebko, whose performing schedule is packed with shows in Europe, and in Austria specifically, was asked by her agent to consider applying for Austrian citizenship several months ago, she felt she was ready for the move.
In normal circumstances, it takes ten years to obtain Austrian citizenship but Netrebko would have been naturalized within six months should she have proceeded with the application.
A number of the Mariinsky Theater's soloists have made a second home abroad. Tenor Vladimir Galuzin, for example, lives in Luxembourg.
The Russian soprano feels very close to Austria for many reasons.
"Vienna is the most charming place; it feels natural and some of its districts remind me of St. Petersburg," she said. "I need to be there for work quite a lot but I fancy the city as a place to live. I was thinking about buying an apartment there one day."
The turning point in Netrebko's career came after she was a tremendous success as Donna Anna in "Don Giovanni" directed by Nikolaus Harnoncour at the opening of the prestigious Salzburg Festival in the summer of 2002.
"Neither myself, nor anybody around me had envisaged a big success, apart from the director who had a great faith in me as Donna Anna," Netrebko remembers. "Basically, I learnt my lines and score and went on stage without particularly high expectations."
But the performance won her an array of flattering reviews, a list of plum contracts with the world's major operatic companies and a welcome place at every Salzburg Festival ever since and at least until 2010.
Salzburg Festspiele, a magazine for friends and patrons of the festival, called Netrebko "the miracle of Salzburg."
"Salzburg was not prepared for this: no CD, no poster, no limousine," wrote Festspiele. "And yet she and her voice are the sensation of Salzburg."
The admiration is mutual.
"I adore Salzburg, it is galvanizing to be there during the festival," Netrebko said. "I am thrilled to be there. Every day the most distinguished musicians perform in front of the snobbiest, most sophisticated audiences, and you can just see all the snobbery melting down or the opposite, manifesting itself in a revolt — sometimes both during the same show!"
Netrebko is excited by the Salzburg's atmosphere, with "boos" and "bravos" crossing over in controversial productions.
The captivating soprano, a rare opera singer who is gifted with not only a stunning voice — pure in tone, rich in colour and velvety in timbre — but also with charismatic artistic talent, obviously enjoys the effects that her performances have on people.
"Of course, it is exciting to feel power over the audience," she admits, adding that at the peak of her operatic career she still dreams of being able to hold even more of the viewers' attention. "I need to feel that I am professional and strong enough to make [the public] happy and desperate for the show to go on. When I am able to do such things, giving new energy to the people, I am happy."
Netrebko came to St. Petersburg from her hometown of Krasnodar at the age of 16 to enter the Rimsky-Korsakov Music College, and then the Conservatory, dreaming of becoming an operetta singer. A few visits to the Mariinsky convinced her that she was moving in the wrong direction. Netrebko joined the world-famous company at the age of 22, simultaneously dropping out of the Conservatory in her fourth year there.
There was little glamour in Anna Netrebko's first years on the banks of the Neva river. She lived in a notoriously horrible dormitory belonging to the St. Petersburg Conservatory on Ulitsa Doblesti and worked as a floor cleaner at the Mariinsky Theater where she dreamt of performing.
In 2004, Salzburg's Festspiele placed Netrebko second in a list of divas with prima donna criteria, like charm, style, manners, social habits, appearance and dress, after Angela Georgiu. Renee Fleming, Cecilia Bartoli, Karita Mattila and Deborah Voigt were placed lower down in the ranking.
The glamour rating may have been flattering but with public appetite for details about her life both on stage and behind the scenes becoming voracious, Netrebko feels she needs to assert her independence.
"It is not only that everyone discusses what I do, people start making their own — questionable and speculative — conclusions, and spread them around," she said.
"So for the moment, the only option left is to freeze the citizenship application, unless I want to live with the reputation of a defector. And I don't. So here I am, waiting to get my next Schenghen visa approved."


Galina Stolyarova | May 12, 2006
Weblink: http://www.sptimes.ru/