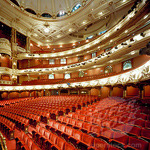 The English National Opera can hardly be accused of artistic stasis, having announced operas by four living composers as part of its 2011-12 season. Among them is John Adams and Alice Goodman's 1991 work, "The Death of Klinghoffer," about the hijacking in 1985 of the cruise ship Achille Lauro by the Palestine Liberation Front.


Tom Morris, who staged the West End and Broadway hit "War Horse," is to direct.
Performance history of "Klinghoffer" has been dotted by cancellations and protests, due to its delicate subject matter. ENO Artistic Director John Berry calls it "probably the most controversial piece of the last 50 years," although "Anna Nicole" and "Jerry Springer the Opera" offer stiff competition.
In all, ENO plans 11 new productions, including Damon Albarn's "Doctor Dee," Detlev Glanert's "Caligula" and Wolfgang Rihm's "Jakob Lenz," described as "an exploration of schizophrenia."
Also scheduled are new productions "The Marriage of Figaro"; Rameau's "Castor and Pollux"; "Eugene Onegin"; "The Tales of Hoffmann"; "The Flying Dutchman"; and a new "Billy Budd," directed by David Alden.
Revivals include Jonathan Miller's "The Elixir of Love," Catherine Malfitano's "Tosca," David McVicar's "Der Rosenkavalier" and Anthony Minghella's "Madama Butterfly."


MusicalAmerica.com; The Guardian | May 18, 2011


Weblink: http://www.musicalamerica.com/
Photo credit: http://www.superstock.com/